Pre-1800s
Mesa County's varied and unique terrain was formed by nature's forces through millions of years. Here, the verdant Rocky Mountains meet the desert beauty of canyon country. The area's first known humans arrived some 13,000 years ago. Native Americans occupied the area for thousands of years; Spanish Padres, mountain men and surveyors came to explore and record the region. Colorado became the Centennial State in 1876. Three years later, an Indian uprising near Meeker led to the removal of Ute Indians from the northern two-thirds of Western Colorado to reservations in Utah. White settlers arrived in Mesa County in 1881.
The Indian ceremonial club, the Navajo basket, and the Spanish Conquistador helmet symbolize the many centuries before 1881
---
Geology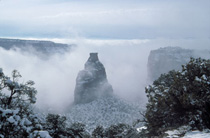 In ancient times, oceans and then deserts covered Western Colorado. Their retreat left great deposits including sand, which compressed into sandstone. To the west of Grand Junction, the red sandstone has weathered into the canyons and elaborate formations of the Colorado National Monument. East of the Grand Valley is the vast, flat-topped Grand Mesa. Volcanic flows had covered that area, forming a protective layer of hard basalt, hundreds of feet deep. The surrounding terrain eroded away, leaving the Grand Mesa with its 10,000′ elevation, forests and lakes.
(Monument photo by Al Ligrani)
---
Paleontology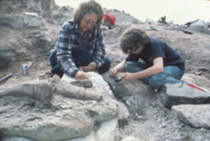 Mesa County has been the site of important fossil discoveries for over a century. These include some of the largest, and some of the smallest dinosaurs in the world. The earliest Brachiosaurus, and a largely intact Apatosaurus are among the many significant dinosaur discoveries. The Bollan Stegosaurus, including tail spikes, was excavated at Rabbit Valley by the Museum of Western Colorado. Mammal fossils of later periods also are found, including mammoth and bison remains.
(Gretel Daugherty Photo)
---
Prehistoric Indians
Traces of Paleo Indians in Mesa County date to 11,000 B.C., and Archaic Indians to 8,000 B.C. Fremont Indians were here about 700 to 1200 A.D. They lived in rock shelters and pit houses, which have yielded archaeological material. Rock art was etched or painted on cliffs and boulders. This example from the Fremont tradition is on a Mesa County ranch. The Fremonts eventually moved away, probably to the Rio Grande Valley and its pueblos.
(Sissi Savoya Williams Photo)
---
Ute Indians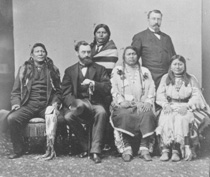 The Utes hunted over wide areas of Utah and Colorado. Some also had seasonal farms. Utes were noted for the fine ponies they raised and traded, and for their buckskin crafts. Ouray, born in 1833, became a tribal leader; his wife was Chipeta. The U.S. government accepted him as the chief Ute during treaty negotiations. In this 1880 photo, Ouray and Chipeta are on the front row.
---
Trails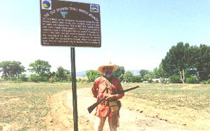 Indian trails were throughout Western Colorado. The Dominguez-Escalante party used those trails while exploring a route from Santa Fe to California. They came through Mesa County in August, 1776. A wagon road developed which is called the Old Spanish Trail. This sign, at Eagle Rim Park on Orchard Mesa, commemorates that trail and its ford across the Colorado River.
(Vicki Felmlee Photo)
---
Explorers
Fur traders and mountain men ranged throughout Western Colorado, 1821-1845. Pictured is a boulder, inscribed in French by trader Antoine Robidoux in 1837. He had an early trading post, Fort Uncompahgre, near modern-day Delta. Wayfarers included the Marcus Whitman party who came through the valley in 1842. Lt. Edward Beale and Capt. John Gunnison headed two separate exploration expeditions in 1853. The Hayden Survey teams of 1873-1876 surveyed, and named, many geologic features and peaks.
(Jack Owens Photo)
---
New Treaties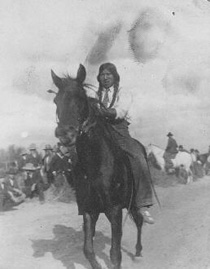 In 1879, battles between the government and the Utes near Meeker, Colorado lead to old treaties being cancelled. The Utes were moved to reservations in Utah and Southwest Colorado, and our area was opened to settlement by non-Indians in September, 1881. Utes, however, were free to traverse the area during frequent treks between reservations. Pictured is a Ute who is visiting an early day Mesa County Fair.