While our timeline begins in the 1880s when Grand Junction was founded, the region has a history well beyond that of Grand Junction. Traces of Paleo Indians in Mesa County date to 11,000 B.C.E., and Archaic Indians to 8,000 B.C.E. Fremont Indians were here about 700 to 1200 C.E. the area.  Additionally, the Ute people occupied territory in Colorado and Utah well before Spanish padres, mountain men, and surveyors came to explore and record the region. Colorado became the Centennial State in 1876. Three years later, an Indian uprising near Meeker led to the removal of Ute Indians from the northern two-thirds of Western Colorado to reservations in Utah. White settlers arrived in Mesa County in 1881.
Grand Junction History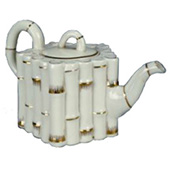 The 1880s was a decade of beginnings. Planners and visionaries in 1881 saw the promise in this broad valley. The arid Grand Valley was a desert, but it was traversed by two major rivers. Water from the Grand River ( later renamed the Colorado ) was soon brought to town and farms, via dams, canals and ditches. The first of many canals were the Pioneer Canal, and the Pacific Slope Ditch in 1882. Grand Junction was incorporated in 1882, and by 1883 Mesa County was established with Grand Junction as the county seat. The town's population in 1885 was 378, according to a special Colorado State Census, but other sources claimed it was over 800.
Image: Benton and Evelyn Canon settled in Grand Junction in 1887. This bamboo pattern Belleek teapot, a fine porcelain from Ireland, was a wedding present that traveled with them.