Travel through more than 130 years of history throughout Grand Junction, Colorado
<1880
Pre-1800s
Mesa County's varied and unique terrain was formed by nature's forces through millions of years. Here, the verdant Rocky Mountains meet the desert beauty of canyon country. The area's first known humans arrived some 13,000 years ago. Native Americans occupied the area for thousands of years; Spanish Padres, mountain men and surveyors came to explore and record the region. Colorado became the Centennial State in 1876. Three years later, an Indian uprising near Meeker led to the removal of Ute Indians from the northern two-thirds of Western Colorado to reservations in Utah. White settlers arrived in Mesa County in 1881.
The Indian ceremonial club, the Navajo basket, and the Spanish Conquistador helmet symbolize the many centuries before 1881
---
Geology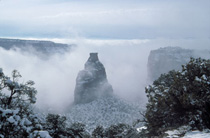 In ancient times, oceans and then deserts covered Western Colorado. Their retreat left great deposits including sand, which compressed into sandstone. To the west of Grand Junction, the red sandstone has weathered into the canyons and elaborate formations of the Colorado National Monument. East of the Grand Valley is the vast, flat-topped Grand Mesa. Volcanic flows had covered that area, forming a protective layer of hard basalt, hundreds of feet deep. The surrounding terrain eroded away, leaving the Grand Mesa with its 10,000′ elevation, forests and lakes.
(Monument photo by Al Ligrani)
---
Paleontology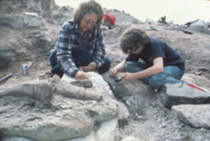 Mesa County has been the site of important fossil discoveries for over a century. These include some of the largest, and some of the smallest dinosaurs in the world. The earliest Brachiosaurus, and a largely intact Apatosaurus are among the many significant dinosaur discoveries. The Bollan Stegosaurus, including tail spikes, was excavated at Rabbit Valley by the Museum of Western Colorado. Mammal fossils of later periods also are found, including mammoth and bison remains.
(Gretel Daugherty Photo)
---
Prehistoric Indians
Traces of Paleo Indians in Mesa County date to 11,000 B.C., and Archaic Indians to 8,000 B.C. Fremont Indians were here about 700 to 1200 A.D. They lived in rock shelters and pit houses, which have yielded archaeological material. Rock art was etched or painted on cliffs and boulders. This example from the Fremont tradition is on a Mesa County ranch. The Fremonts eventually moved away, probably to the Rio Grande Valley and its pueblos.
(Sissi Savoya Williams Photo)
---
Ute Indians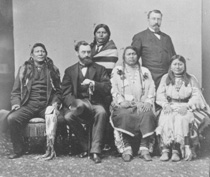 The Utes hunted over wide areas of Utah and Colorado. Some also had seasonal farms. Utes were noted for the fine ponies they raised and traded, and for their buckskin crafts. Ouray, born in 1833, became a tribal leader; his wife was Chipeta. The U.S. government accepted him as the chief Ute during treaty negotiations. In this 1880 photo, Ouray and Chipeta are on the front row.
---
Trails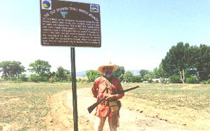 Indian trails were throughout Western Colorado. The Dominguez-Escalante party used those trails while exploring a route from Santa Fe to California. They came through Mesa County in August, 1776. A wagon road developed which is called the Old Spanish Trail. This sign, at Eagle Rim Park on Orchard Mesa, commemorates that trail and its ford across the Colorado River.
(Vicki Felmlee Photo)
---
Explorers
Fur traders and mountain men ranged throughout Western Colorado, 1821-1845. Pictured is a boulder, inscribed in French by trader Antoine Robidoux in 1837. He had an early trading post, Fort Uncompahgre, near modern-day Delta. Wayfarers included the Marcus Whitman party who came through the valley in 1842. Lt. Edward Beale and Capt. John Gunnison headed two separate exploration expeditions in 1853. The Hayden Survey teams of 1873-1876 surveyed, and named, many geologic features and peaks.
(Jack Owens Photo)
---
New Treaties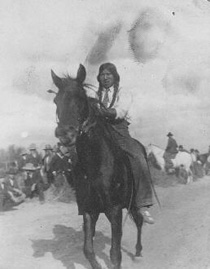 In 1879, battles between the government and the Utes near Meeker, Colorado lead to old treaties being cancelled. The Utes were moved to reservations in Utah and Southwest Colorado, and our area was opened to settlement by non-Indians in September, 1881. Utes, however, were free to traverse the area during frequent treks between reservations. Pictured is a Ute who is visiting an early day Mesa County Fair.
1880
The 1880s
The 1880s was a decade of beginnings. Planners and visionaries in 1881 saw the promise in this broad valley. The arid Grand Valley was a desert, but it was traversed by two major rivers. Water from the Grand River ( later renamed the Colorado ) was soon brought to town and farms, via dams, canals and ditches. The first of many canals were the Pioneer Canal, and the Pacific Slope Ditch in 1882. Grand Junction was incorporated in 1882, and by 1883 Mesa County was established with Grand Junction as the county seat. The town's population in 1885 was 378, according to a special Colorado State Census, but other sources claimed it was over 800.
Benton and Evelyn Canon settled in Grand Junction in 1887. This bamboo pattern Belleek teapot, a fine porcelain from Ireland, was a wedding present that traveled with them.
Agriculture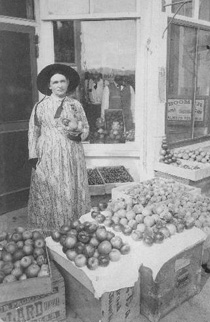 Kate Harlow and her husband, John Petal Harlow, had one of the first farms on Rapid Creek. They experimented with a wide range of grains, vegetables and fruit, and nearly everything grew well. Kate had an early restaurant and fruit stand on Grand Junction's Main Street.
Business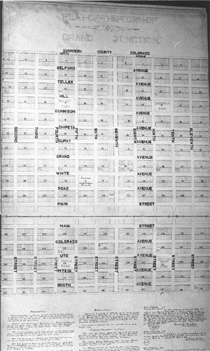 On Sept. 26, 1881 the Grand Junction town site was selected, and stockholders then established the Grand Junction Town and Improvement Company. They owned the land, and were distinct from the town government. They surveyed streets and lots, promoted sales of the land they owned, and encouraged settlement. The town occupied a square mile, spanning from 1st to 12th Streets, and from North to South Avenues. The plat shows the layout of the town.
(Photograph and attached digital image, Mesa County Clerk and Recorder's Office)
Culture
Literary societies, churches, lodges, bands and orchestras, and plays and musicals soon flourished. The frontier town began to be polished. Schools were a major factor as music, art and drama were taught in addition to the three R's. Here is a trio of teachers, ambassadors of culture, in fashionable attire.
Education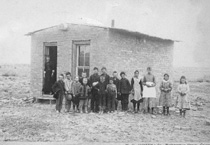 Schooling for the children was an early priority. Nannie Blaine Underhill was the first teacher. The first school, a crude cabin of upright logs, soon was replaced by a better building of local brick. Teacher Isa Caldwell is in the doorway. She began teaching in 1882 and taught all grades in the one room school.
(W. H. Jackson & Co. Photo)
People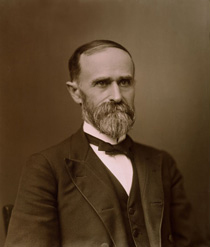 George A. Crawford (1827-1891) headed the Town Company and is considered "the father of Grand Junction." A skilled entrepreneur, he also founded three cities in Kansas, and Delta, Colorado. Elected governor of Kansas in 1861 in an election invalidated on technicalities, he did not serve. However, he usually was known as "Governor" Crawford.
(F. Gutekunst Photo)
Recreation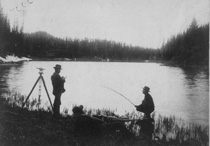 Grand Mesa provided recreation from the earliest days. Scenic beauty, and abundant fishing and hunting were appreciated by the settlers. Summer homes and resorts began to be built, usually near cool lakes. Glade Park also was a summer favorite. Winter sports were sledding and skating. Skiing came later.
Transportation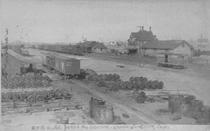 The Denver and Rio Grande Railroad reached town in November, 1882 and it was a major boost to the success of Grand Junction. Trains were of paramount importance in the era before automobiles, trucks and airplanes. Grand Junction became a major division point of the railroad, with repair and maintenance shops.
Details by Year:
1880

1881

White River and Uncompahgre Utes moved to Utah
Pioneers settle former Ute lands
George Crawford selects Grand Junction and Delta town sites
Voters hold meeting to name post office~ Grand Junction selected for the town name
Grand Junction Town and Improvement Company incorporates to sell town lots
Giles and Mitchell open first general merchandise store~ Giles and Garland, the first saloon

1882

City of Grand Junction incorporates and forms municipal government
P. H. Gordon and Ben Scott drown when their boat capsizes on the Grand River
Charles Shanks elected first mayor
W. J. Miller, first attorney
Taylor & Coghill, first livery stable in town
S.G. Crandall opens first bank, Bank of Grand Junction
Grand Junction News, first newspaper, begins publication
First kiln of bricks fired~ used to build Randall House (hotel)
Methodist Episcopal Church, South, holds first known church service
Nannie Blaine first subscription school teacher, and first Sunday school teacher
First election held, school board elected: H. E. Stroud, O. D. Russell, and W. M. McKelvey (called the Bachelor's Ticket)~ hires Isa Caldwell as first public school teacher
Pioneer Canal supplies irrigation water~ Pacific Slope Ditch, farm and domestic water supply
Grand River Ditch Company organized
Valley's first vegetables grown by J. P. Harlow
Denver and Rio Grande Railroad arrives in Grand Junction

1883

Mesa, Garfield, Delta and Montrose counties established
Colorado Governor J. B. Grant appoints George W. Thurston, Thomas B. Crawford, and Benjamin Carey as first Mesa County Commissioners (until election is held in 1884)
Grand Valley Guards, Company F, enrolls in State Militia
Volunteer fire department established
Large Queen Anne style train depot constructed
Cornet Band organizes
Masonic Lodge, Mesa #55, A.F. and A.M., installed
Mesa Lodge 58, Independent Order of Odd Fellows established
Women's Christian Temperance Union founded locally
Grand Army of the Republic founded locally (Civil War Union veterans)

1884

Attorney J. W. Bucklin elected first area Representative to State General Assembly
Western Colorado Stock Growers established
First church, M. E. Church, South, constructed~ Baptist and Catholic churches, soon afterward
Sam Sing advertises the Best Laundry Service in town
Board of Trade formed to promote City
First section of Lowell Elementary constructed (5th and Rood)
Mesa County Agricultural and Horticultural Society founded
Chautauqua Literary and Scientific Circle organized

1885

Denver and Rio Grande Railroaders go on strike~ 9 arrested
T.E. Barnhouse opens photography studio (later partners with D. N. Wheeler)
County purchases the Mandel Opera House for offices (6th and Main)
Pioneer and Historical Society organized to chronicle correct record of events
Library Association formed

1886

Charles Haskell, editor Mesa County Democrat, publishes first Mesa County history
J. C. Connor advertises dentistry practice
International Brotherhood of Locomotive Engineers, #488, organized
First students arrive at Grand Junction Indian School (Teller Institute)
Fifth Street Bridge constructed~ first Colorado bridge financed by State
State Bridge constructed west end of Main, longest bridge in Colorado
Roan Creek Toll Road completed at a cost of $12,000~ two stage lines begin service between Grand Junction and Glenwood Springs
Jockey Club organized
Amateur Dramatic Club founded

1887

First Mesa County Fair held

1888

W.T. Carpenter purchases the Book Cliff and Grand Valley coal mines
DeBeque named for W.A.E. deBeque, early Grand Junction physician
First Grand Junction water works under construction near Fifth Street Bridge
First electric plant constructed

1889

Fruita Building and Loan founded (later Mesa Federal Savings and Loan)
Volunteer firemen form Cameron Hose Cart Company~ firemen occupy ground floor of City Hall (5th and Colorado)
Rifle Club founded
1890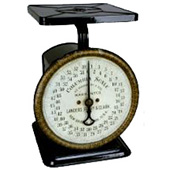 The 1890s
By the 1890s the main elements of the economy were in place. Agriculture, commerce and transportation continue to this day. Grand Junction's population in 1890 was 2,030, according to the Federal Census Bureau.
Many varieties of fruit soon became prime crops. The Grand Valley has a long growing season, warm days and cool nights, and irrigation which allows water to be applied exactly as needed. These factors all contribute to growing fruit of extraordinary quality. This scale was owned by John Hines, an orchard owner who was one of the area's first black residents.
Agriculture
Selling our fruit to distant markets became a large business. The Colorado Fruit and Commercial Company and the Grand Junction Fruit Growers Association were two of the largest firms. The Fruit Growers Association, shown here, also evaporated fruit, which is superior to drying. For example, in 1904 they processed 244,466 pounds of Italian prunes in their evaporator building. This yielded 92,207 pounds of concentrated fruit, without moisture.
Business
Frank Dean was a photographer in the booming silver mining towns of Western Colorado, and also in Grand Junction. By 1900 he moved here permanently and began a forty year career of photographing people, events, buildings and landscapes. His excellent photos are a valuable recording of the area's history.
(Dean Photo)
Community
Churches were organized in early Grand Junction and the first small buildings soon were outgrown. Typical was the 1890 Congregational Church. By 1904 the burgeoning congregation rebuilt at the corner of 6th and Rood. They installed the first pipe organ in town, a Kimball Hydraulic Pneumatic Duplex concert instrument. In addition to worship, some churches also were used for musical and literary performances.
Culture
The Women's Library Association petitioned philanthropist Andrew Carnegie for funds to build a new library, which was erected in 1901 at 7th and Grand. A substantial "Colonial" building, it had a red sandstone foundation, buff brick walls, a red tile roof, and furniture and woodwork of golden oak. (Dean Photo)
Education
Originally named the Park School, the Emerson Grade School was built at 9th and Ute in 1903. The architect's drawings of the large building included a dome, but it was not included. Ninety-nine years later the building had essentially the same appearance, minus the belfry and spire.
(Dean Photo)
People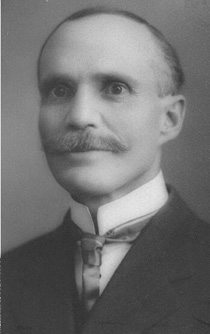 James Bucklin was a lawyer, a founder of Grand Junction, and a stockholder in the Town Company. New ideas in politics and government intrigued Bucklin and he promoted the unusual Preferential Voting System, in use here from 1909 to 1922. Citizens voted for everyone running for an office, in the order of the voter's preference. Winners were those who tallied the largest number of high preference points. This innovation gained Grand Junction national and international attention.
Recreation
First held in 1887, the Mesa County fairs were initially held at 7th and Patterson, then at Lincoln Park. Over the next two decades some of these annual celebrations were tailored into "Peach Day" festivals, focusing on one of the county's most delectable and sought-after products. President William H. Taft visited the fair on his way to Montrose in 1909 to dedicate the Gunnison Irrigation Tunnel.
Transportation
An electrically powered streetcar system was inaugurated May 27, 1909 by the Grand Junction and Grand River Valley Railway. When few people owned automobiles, streetcars were a great convenience for many riders. Streetcars were smooth, quiet, non-polluting transportation. Earlier, the city had horse-drawn streetcars from 1890 to 1903.
Details by Year:
1890

Fruita Building and Loan founded (later Mesa Federal Savings and Loan)
Volunteer firemen form Cameron Hose Cart Company~ firemen occupy ground floor of City Hall (5th and Colorado)
Rifle Club founded

1891

Town founder George Crawford dies
John Hines, one the area's first black residents, purchases a fruit ranch (on Orchard Avenue)
Grand Junction Volunteer Hook and Ladder fire fighting company formed
International Brotherhood of Railway Trainmen organized
Grand Junction Fruit Growers Association established
First Peach Day celebration
Franklin building (first Grand Junction High School) dedicated (6th and Rood)
Local Woodmen of the World Lodge founded
Isabella Ivy Tourist Club founded

1892

Wright's Chapel (later Handy Chapel) erected by members of African Methodist Episcopal Church of Grand Junction
Miss M. Dudley opens photography business
Canon Block building erected (4th and Main)
Park Opera House opens in remodeled livery (400 block of Ute)
Western Colorado Academy of Science organized

1893

Silver demonitization causes nationwide recession
The Daily Sentinel begins publication
Mesa County Abstract Company incorporated
Women given right to vote in Colorado

1894

John H. Wellington builds Wellington Water Wheel (irrigation)
Grand Junction subscription library organized
Colorado Telephone and Telegraph Company (forerunner of Mountain Bell) begins local telephone service~ 52 customers
Grand Junction High School (GJHS) becomes 4 year school~ graduates first class
Peach Day Massacre: 3,400 sheep killed near DeBeque

1895

Sampliner Clothing Store opens (4th and Main~ later RushSanford
and Brownson's, now the Rock Slide)
M.L. Roberts begins jewelry business (later PageParsons)
Grand Junction Athletic Association founded
First Lincoln Elementary School opens (Orchard Mesa)
Twentieth Century Club founded
Grand Junction Fire Department Hose Cart Team races to a world's record
Grand Mesa Woman's Club established (later Grand Junction Woman's Club)

1896

St. Mary's Hospital established by Sisters of Charity at 11th and Colorado
Cameo Coal Mine opens in DeBeque Canyon
Columbus Elementary School opens (Orchard Mesa)
Camera Club founded

1897

A. Bartlett sells Bargain Store to soninlaw, A.N. Anderson (later Anderson's Furniture)
Home Loan and Investment Company opens
Bannister Furniture established
Order of Railway Conductors organized
Alex and Mike Struthers win international bicycle race in Denver

1898

Fire destroys Grand Junction Milling and Elevator Company~ $30,000 loss
Mesa County Teachers Association formed

1899

Spanish American War~ many local men enlist
William Jennings Bryan, orator and politician, visits Grand Junction
Colorado's first sugar beet factory opens in Grand Junction
U. S. Weather Bureau Office established locally
1900
The 1900s
Grand Junction by 1900 had evolved from a simple frontier town to a small city with advantages normally only found in much larger communities. This set the pattern that continues. The 1900 Federal Census recorded a Grand Junction population of 3,503, a 72.6 percent gain over the previous decade. By 1902 the town hired its first crew of three professional firemen, with horses to pull a fire engine. Volunteer firemen were still available, however, and this cap was worn by a member of Hose Company #1. The oil lantern was necessary before electric lights became common.
Agriculture
Selling our fruit to distant markets became a large business. The Colorado Fruit and Commercial Company and the Grand Junction Fruit Growers Association were two of the largest firms. The Fruit Growers Association, shown here, also evaporated fruit, which is superior to drying. For example, in 1904 they processed 244,466 pounds of Italian prunes in their evaporator building. This yielded 92,207 pounds of concentrated fruit, without moisture.
Business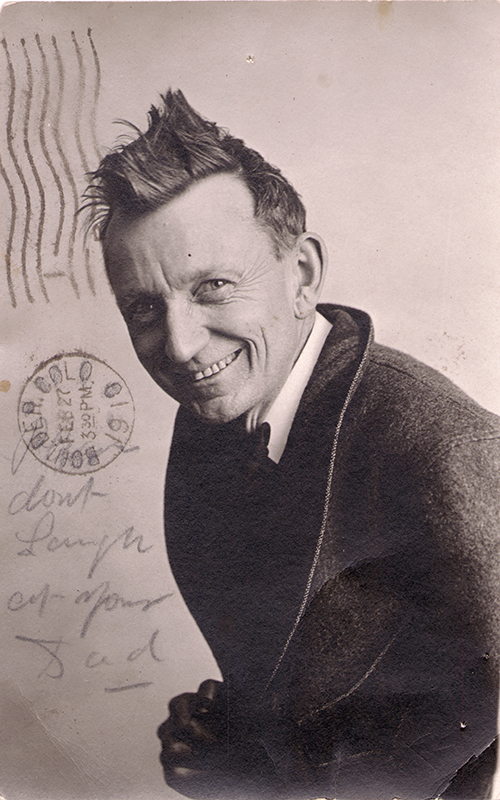 Frank Dean was a photographer in the booming silver mining towns of Western Colorado, and also in Grand Junction. By 1900 he moved here permanently and began a forty year career of photographing people, events, buildings and landscapes. His excellent photos are a valuable recording of the area's history. (Dean Photo)
Community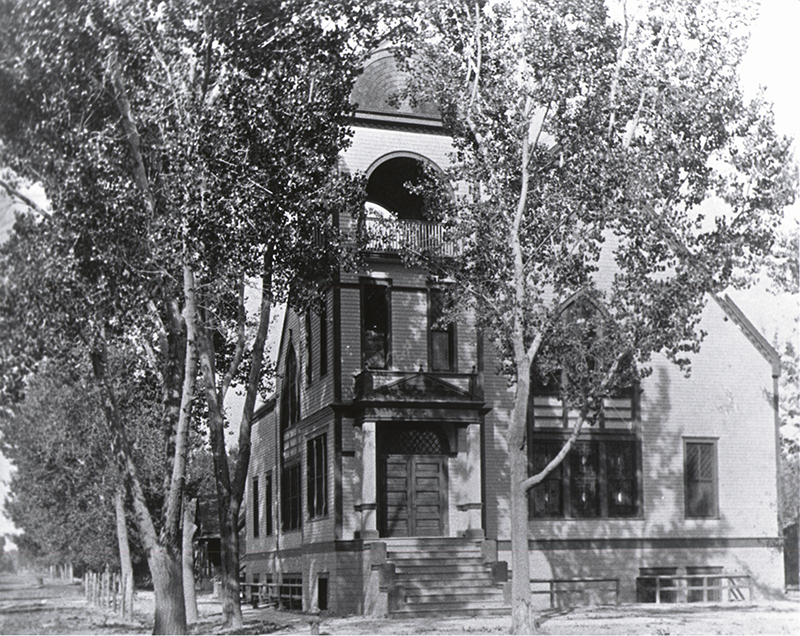 Churches were organized in early Grand Junction and the first small buildings soon were outgrown. Typical was the 1890 Congregational Church. By 1904 the burgeoning congregation rebuilt at the corner of 6th and Rood. They installed the first pipe organ in town, a Kimball Hydraulic Pneumatic Duplex concert instrument. In addition to worship, some churches also were used for musical and literary performances.
Culture
The Women's Library Association petitioned philanthropist Andrew Carnegie for funds to build a new library, which was erected in 1901 at 7th and Grand. A substantial "Colonial" building, it had a red sandstone foundation, buff brick walls, a red tile roof, and furniture and woodwork of golden oak. (Dean Photo)
Education
Originally named the Park School, the Emerson Grade School was built at 9th and Ute in 1903. The architect's drawings of the large building included a dome, but it was not included. Ninety-nine years later the building had essentially the same appearance, minus the belfry and spire. (Dean Photo)
People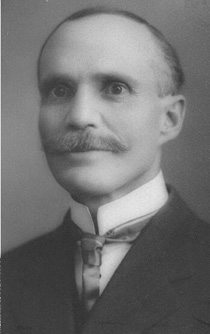 James Bucklin was a lawyer, a founder of Grand Junction, and a stockholder in the Town Company. New ideas in politics and government intrigued Bucklin and he promoted the unusual Preferential Voting System, in use here from 1909 to 1922. Citizens voted for everyone running for an office, in the order of the voter's preference. Winners were those who tallied the largest number of high preference points. This innovation gained Grand Junction national and international attention.
Recreation
First held in 1887, the Mesa County fairs were initially held at 7th and Patterson, then at Lincoln Park. Over the next two decades some of these annual celebrations were tailored into "Peach Day" festivals, focusing on one of the county's most delectable and sought-after products. President William H. Taft visited the fair on his way to Montrose in 1909 to dedicate the Gunnison Irrigation Tunnel.
Transportation
An electrically powered streetcar system was inaugurated May 27, 1909 by the Grand Junction and Grand River Valley Railway. When few people owned automobiles, streetcars were a great convenience for many riders. Streetcars were smooth, quiet, non-polluting transportation. Earlier, the city had horse-drawn streetcars from 1890 to 1903.
Details by Year:
1900

Frank Dean relocates photography studio to Grand Junction from Gunnison
C.D. Smith arrives in Grand Junction~ acquires first drug store
M.H. Loeffler opens commercial tailoring business
Elmer S. Riggs, Columbian Field Museum, Chicago, unearths Brachiosaurus type find at Riggs Hill City builds new pumping plant on the Gunnison River
Elks Club, #575 Benevolent and Protective Order of the Elks (BPOE), founded
The "fruit gathering bag" was patented in December 1900 by George W. Bowman who lived in Palisade. His wife, Nancy Cutter Bowman, is credited for the idea because she would use her apron to hold fruit while picking so it didn't bruise.

1901

Elmer S. Riggs returns to excavate Apatosaurus at Dinosaur Hill near Fruita
Carnegie Library opens at Seventh and Grand
"Pest House," hospital for contagious diseases, constructed in Redlands

1902

U.S. Bureau of Reclamation established
First paid fire department
Currie Building under construction at 5th and Main (now the Raso Building)
Cattleman Charles Sieber shot and killed by Joe Harris
Nancy Irving's goats clubbed to death near present day Colorado National Monument

1903

Union Bank and Trust Company opens (later U.S. Bank)
Grand Junction Chamber of Commerce founded
Mesa County Medical Society established
Dr. Alston P. Drew sets up veterinary practice
Park School (later Emerson) constructed (9th and Ute)
City suspends horse drawn street car~ rails pulled up and horses sold
Packard car, "Old Pacific," comes through area on record coasttocoast run

1904

Modern Building and Loan Association established
Mutual Building and Loan founded (later Columbia Savings and Loan)
Independent Lumber Company opens in Grand Junction
Harry Burnett purchases The Grand Hotel (4th and Colorado)
Congregational Church builds new sanctuary at 6th and Rood
Uintah Railway built to haul gilsonite from Dragon, Utah to Mack, Colorado
Summer Club reorganizes as Reviewer's Club

1905

Redlands Irrigation Company established
"Cliff Dweller" steamship, built by local capital, sails between Green River and Moab, Utah (GreenGrand River Navigation Company)
New Fair Store opens (5th and Main~ later Montgomery Ward, now A. G. Edwards)
Schmidt family hardware store opens (439 Main)
President Teddy Roosevelt hunts bear in Western Colorado

1906

Union Railway Depot opens
Valley Building and Loan organized
Margery Building opens (500 block of Main)
Congress passes Antiquities Act to protect cultural and scientific resources on Public Lands

1907

Buthorns purchase La Court Hotel from Ed Nearing
Glade Park Store opens
Verner Z. Reed, Colorado Millionaire, starts Golden Hills Ranch near Loma
Lane and Company establishes plumbing, heating and sheet metal business
G.J. Electric, Citizens Gas and Coke, and G.J. Ice and Storage companies merge into G.J. Electric and Manufacturing Company
Dr. A. P. Drew opens veterinary hospital (6th and Colorado)

1908

Mesa County voters approve prohibition~ no liquor to be served or sold
Socialist presidential candidate Eugene V. Debs draws large local audience
Salvation Army established locally

1909

Grand Junction adopts Preferential Voting System; installs commission form of government
President Taft visits Mesa County Fair; attends Gunnison Tunnel dedication (irrigation) in Montrose
S.G. Hoel opens business college in Grand Junction (later Hoel-Ross)
Henry L. Dougherty, Wall Street utilities and oil tycoon, purchases Redlands holdings from the Kiefer Familu
Ten bars, one wholesale liquor business go out of business; druggists petition city council to prohibit sale of liquor in drug stores
Grand Junction votes itself dry; like the rest of the country, no liquor to be sold or consumed
Winfield's Stationery opens (later Intermountain Printing and Stationery)
Electric Street car line begins operation in Grand Junction
Majestic Theatre opens (later Mesa Theater; now Mesa Theater & Club; 500 block of Main)
1910
The 1910s
The decade of the1910s saw growth and prosperity, but it was overshadowed by World War I which began in Europe in 1914. When the war ended in 1918, Grand Junction shared the national optimistic spirit that believed we had fought the final war, and civilization had moved beyond armed conflict. People believed the massive conflict was the "War To End All Wars." This hopeful outlook was doomed to disillusionment. The population of Grand Junction in 1910 was 7,754, a 121.4 percent increase in a decade.
World War I artifacts at the Museum include this bugle. They had many uses as a signaling instrument before radio was common. The khaki colored cap was standard issue for a soldier's uniform.
Agriculture
One of the largest irrigation projects in the nation, the Highline Project was completed in 1918. It provided the water to cultivate 50,000 acres in the Grand Valley. The unusual roller dam is shown as it was being built across the Colorado River in DeBeque Canyon. The level of the reservoir behind it is controlled by raising or lowering large steel cylinders, called rollers. There are only three roller dams in the country, and this is the largest.
(U. S. Bureau of Reclamation Photo)
Business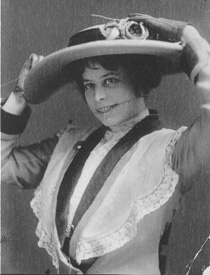 In 1911, the elegant Grace Miller posed in fashionable clothes. She and a partner operated The Ladies Tailoring College. Grace secured her hat with a long hat pin, and a second pin was held ready between her teeth. A breeze could send a large hat flying away, and pins through the hairdo and hat kept the hat in place.
Community
World War I was a world-wide conflict during 1914-1918, and the United States was a combatant 1917-1918. Naval forces were engaged on the Atlantic, and land forces were mainly in battles in France. These Mesa County recruits, ready to leave for military service, boarded a car on the Midland Railroad which served Grand Junction from 1890 to 1918. (Dean Photo, The Daily Sentinel)
Culture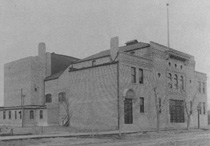 The Park Opera House was at 430 Ute Avenue, facing Cottonwood Park – later Whitman Park. (The site is now the Museum of the West parking lot.) Equipped for theatrical events, lectures and music of all types, it featured local and touring companies. Performers from the Barrymores to the Four Cohans appeared there. The Opera House was in use from the 1890s until the 1920s when moving pictures changed theatrical demands.
Education
A larger high school building was needed, and the 900 block between Chipeta and Gunnison Avenues was bought for the new location. The central section was built in 1911, and wings on each side were added beginning in 1917. There were 36 rooms and an auditorium for 500. The small number of students in 1891 had grown to over 600.
(Dean Studio Photo)
People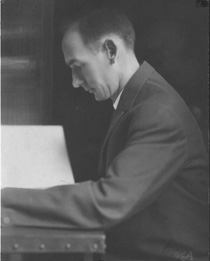 Richard E. Tope was a school administrator. "Professor Tope" was admired as a cultivated gentleman of wide learning who recruited an outstanding staff of teachers, and set a standard of excellence. Mr. Tope was principal of the high school 1911-1918, and then superintendent of schools until 1938. On retirement he was appointed superintendent emeritus and consultant.
Recreation
Spectacular red sandstone cliffs and canyons are to the west of Grand Junction. John Otto, pictured on horseback, was an environmentalist and visionary. He was determined that this scenic domain should be saved intact as a natural park. This dream was realized in 1911 when the Colorado National Monument was established. Otto, the first park superintendent, developed many hiking and horse trails including the twisting Serpent's Trail Road, now used for hiking.
(Colorado National Monument Photo)
Transportation
Especially in the west, roads between cities were primitive. Nonetheless, in October 1912 a hardy band of 27 motorists drove nine cars from Grand Junction to Salt Lake City. The road often dwindled to a wagon track, streams were forded, and deep mud was a problem. They made the journey in 11 days, and Salt Lake greeted the pioneers with a banquet. The drivers shipped their cars home by railroad. (Winfield Photo)
Details by Year:
1910

Osteopaths, Drs. Isabelle Morelock, Doris MorelockSpencer, and Josephine Morelock provide health care to women and children
Latimer Chemical Company listed in City Directory (later LatimerGoodwin)
Grand Valley National Bank Building opens with first electric elevator (later First National Bank~ now Dalby Wendland)
Telephone building erected (131 N. 7th Street)
YounkerCallahan Mortuary established
Big Park post office begins service~ soon renamed Glade Park
Electric Building constructed (3rd and Main~ later Enterprise)
Popular Mechanics publishes article on Grand Valley smudging to protect orchards from frost
Interurban line begins service to Fruita (light rail service)
Saul Halyve, Grand Junction Indian School student, defeats Danish runner in nationallyadvertised race sponsored by Mesa County Fair Board
Mt. Garfield Chapter, Daughters of the American Revolution, installed
G.A.R. holds ColoradoWyoming meeting

1911

City purchases first automotive Fire Truck
Benge's Shoe Store opens (422 Main)
C. D. Smith begins wholesale drug store business
Appleton becomes Colorado's first consolidated school district
First section, new Grand Junction High School building opens (9th and Chipeta)
R. E. Tope becomes High School principal
Government closes Grand Junction Indian School (Teller Institute)
Colorado National Monument established

1912

W. W. Campbell becomes manager of Colorado Milling Company Flour Mill
MuddJoclyn & Penney Store opens at 308 Main (later J. C. Penney, 362 Main)
Currie Canning Factory opens local plant
Western Slope Auto acquires Ford dealership
St. Mary's Hospital constructs brick building (11th and Colorado)
Auditorium building opens (315 Rood)
Grand Junction leads Colorado in percentage of school age children enrolled in school
Pure mountain water from Kannah Creek reaches Grand Junction, replacing river water
Work begins on Roller Dam in De Beque Canyon for government's Highline Irrigation Project
First cars travel Midland Trail (a primitive highway)
Charles F. Walsh flies first airplane at Fairgrounds (now Lincoln Park)~ 5,000 watch exhibition

1913

Elks, BPOE #575, open new lodge (4th and Ute)
Amore Raso opens grocery store (220 S. Second ~ later Raso Liquor)~ serves as banker for other Italian immigrants

1914

World War I begins in Europe
Fire station relocates (611 Colorado)
Mesa County's assessed valuation, $22,773, 800~ property in city, nearly $7,000,000
Herman Vorbeck opens sporting goods store (later Stephens)
Mesa County Extension Service established
Local producers ship $1,075,000 worth of livestock to market
2,400 railroad cars of fruit shipped~ 800 cars of other produce ($1,240,000 income) by local residents
Total entirely cloudy days in the year number 11

1915

First water turned into U.S. Government's Highline Canal

1916

St. Mary's inaugurates nursing school (later merged with Mesa College)
Clymer's begin first dairy~ call it the Old Indian School Dairy due to its location
Ordinance 249 renames four original parks: Whitman (Marcus Whitman), Emerson (Ralph Waldo Emerson), Hawthorne (Nathaniel Hawthorne) and Washington (George Washington)
Junior High established as unit of school system
St. Joseph's Catholic Church opens area's first successful parochial school~ Nunzio Grasso's stone masons cut and lay the stone
Motor Car Club has more than 50 members~ 500 automobiles in County
Woodmen of the World largest local fraternal organization~ nearly 700 members

1917

Mesa County residents enter military service in World War I
Walter Walker acquires The Daily Sentinel
F.C. Martin purchases mortuary business from Hattie Pearson Murr (city's first female undertaker)
East wing added to Grand Junction High School
City purchases land for Lincoln and Riverside Parks

1918

World War ends
Influenza epidemic kills millions worldwide, and in U.S.
Ollie Bannister first elected to State Senate
BiggsKurtz Hardware Company incorporates
Federal Building and Post Office opens (4th and Rood, now Wayne Aspinall Federal Building)
R.E. Tope becomes superintendent of schools
Riverside School opens
Government Highline Canal reaches completion
Government suspends Colorado Midland Railroad operation
Wednesday Music Club founded

1919

The Big Snow hits on Thanksgiving Day
Jesse Glassford, local businessman, publishes song, Loving Colorado
Pest districts created~ require growers to spray fruit to kill the coddling moth
Fruit losses in Valley $500,000 from pests
Farm Bureau established
Grand Junction and Mesa County join forces to build road to top of Grand Mesa
Community members dedicate Fairmont Hall
Grand Junction Rotary Club founded
1920
The 1920s
The 1920s were called "The Roaring Twenties" nationally. But in Grand Junction these years were calm and progressive. There was much construction, including a fine new courthouse, the Avalon Theatre, and many schools. The council and city manager form of administration dates from 1922. The population reached 8,665 by 1920, for an increase of 11.7 percent between 1910-1920.
An accessory from the 1920s is this woman's purse in royal blue beadwork. The frame and clasp are filigree metal. The small size of the purse is appropriate for downsized clothes. Women's fashions became less confining in the mid 1920s as hemlines rose to the knees, and sleeves could be short. Women's figures were expected to conform to the new slim look.
Agriculture
The vast orchards in the Grand Valley needed chemical sprays to control insects. General agriculture also used sprays for weeds and insects. The Latimer-Goodwin Chemical Company manufactured and distributed sprays and fertilizers, and had a branch in the fruit growing areas of the state of Washington. They also made cider from apples, and fermented vinegar.
(Dean Studio Photo)
Business
Olney E. "Ollie" Bannister was a patriarch of the family who operated Bannister Furniture Company from 1897 to 1999. Bannister also was active in politics, and was in the Colorado State Senate from 1918 to 1934. Among the causes he championed was the legislation which established Mesa College in 1925.
Community
When Franklin High School was razed at 6th and Rood, the site was used for the new Mesa County Courthouse. Construction began in 1922 on the limestone, neoclassical structure and it was built to high standards. Hallways had marble wainscoting and terrazzo floors, court rooms were outfitted in golden oak. The front doors of brass had ornate grilles. It was dedicated in 1924.
(Dean Studio Photo)
Culture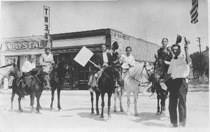 Suffragettes were the feminists of their time. They campaigned for the right of women to vote, and the 19th Amendment of the Constitution gave them the vote nationally, beginning with the 1920 election. Women had voted in Colorado since 1893 because state law assured them that right, but local women were elated that the privilege now was policy in all the states.
Education
As early as 1904 there was an attempt to establish a state college here. The idea of two year junior colleges was developing in the 1920s. Eventually the Colorado legislature and the governor agreed to an extension school of the University of Colorado. In the fall of 1925 the first college classes convened in the recently vacated Lowell School building at 5th and Rood. The nearby YMCA provided a gymnasium. Forty-one freshmen enrolled in Grand Junction State Junior College, forerunner of today's Mesa State College.
People
William J. Moyer, shown near a Christmas display in the Fair Store, became the leading citizen of Grand Junction. The Fair Store opened in 1890 and was the largest department store in Western Colorado. His other major investments included the Grand Valley National Bank. Mr. and Mrs. Moyer were generous with their wealth. They financed young people through college and donated the city's first public swimming pool, the Moyer Natatorium. Unfortunately, the Great Depression of the 1930s brought financial ruin to the Moyer enterprises.
Recreation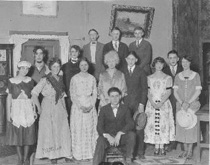 Plays and operettas were staged by Grand Junction High School students, and were attended by enthusiastic students and the public. The Senior Class play of 1925 was "The Rejuvenation of Aunt Mary." Another play and two operettas were performed that year, usually at the Avalon Theatre to accommodate the crowds.
Transportation
The first automobile show in Grand Junction was in May, 1926. It was in the Lincoln Park Auditorium (later mistakenly called the barn ). Some familiar cars are shown. The Ford, Lincoln, Chevrolet, Dodge, and Buick brands are still with us. Hudson, Nash, Studebaker, and Willys were large manufacturers of the time, but exist no more.
(Dean Studio Photo)
Details by Year:
1920

First patients arrive at State Home and Training School for Mental Defectives (formerly location of Teller Institute)
Mesa County Dental Association founded
Antonio Coscorroza and Antonio Retolaza purchase boarding house from Jose Ocamica; serves as unofficial community center for Basque immigrants (224 Colorado; later Spanish Hall and Furnished Rooms)
West wing added to Grand Junction High School
19th Amendment gives women the right to vote (nationally)
First Country Club organizes, builds club house (now Redlands Community Center)
Broadway Ladies Club organized (later Redlands Community Club)
American Legion Post #37 founded; named for WWI casualties George Robbins and Howard McMullen

1921

Congress approves renaming the Grand River the Colorado River
City purchases Orchard Mesa Cemetery
Clymer's Rose Glen Dairy opens on Orchard Mesa
Chamber of Commerce hires its first executive director, W. M. "Woody" Wood
Local labor unions include: Barbers Union, Brotherhood of Locomotive Engineers, Brotherhood of Locomotive Firemen, Brotherhood of Decorators and Paperhangers, Brotherhood of Railway Clerks, Brotherhood of Railway Trainmen, Brotherhood of Railway Carmen, Musicians' Union, Order of Railway Conductors, Typographical Union, and United Brotherhood of Carpenters and Joiners of America
Construction begins on Serpent's Trail Road
Growers required to cut down fruit trees not sprayed for coddling moth
Grand Junction Lions Club founded

1922

Ida and William Moyer donate first municipal swimming pool~ Colorado Governor Oliver Shoup speaks to 5,000 attending dedication at Lincoln Park
First large scale vaccination of school children initiated by Dr. E.H. Munro
Colorado River Compact meeting held in Federal Court House
Grand Junction installs city manager/council form of government
The Daily Sentinel moves to new location (600 Block of Main)
Washington School (9th and Hill) constructed by high school "shop" students

1923

Grand Junction Clay Products incorporated (brickyard)
Avalon Theatre has grand opening
Audrie L. Stong forms GJHS Band (oldest musical organization of its type, regionally); first Western Colorado Band Contest held

1924

Chipeta, widow of Ute leader Ouray, dies
Prinster Brothers begin acquisition of City Market
Fourteen churches have over 4,000 total members
Mrs. Kotono Hayashi operates pool hall; becomes first woman barber in Western Colorado
Mesa County Courthouse dedicated (6th and Rood)
Ku Klux Klan active in Grand Junction, and much of Nation
St. Mary's adds east wing to hospital (11th and Colorado)
Labor Hall located at 435 Main
Battlement Mesa Forest Reserve name changed to Grand Mesa National Forest
Business and Professional Woman's club established
Veterans of Foreign Wars, Post # 1247, organizes; named for Orville Beye and Carl Henry Lotz, WWI casualties

1925

Ray Schiesswohl opens Super Service Station (6th and Colorado; later Schiesswohl Oil)
Grand Junction Junior College (now Mesa State) established
Whitman Elementary School constructed (4th and Ute; now Whitman Education Center)
New Lowell Elementary School opens (7th and Grand; now R5)
Lincoln Elementary School (now Lincoln Park) constructed
Lincoln Park Golf Course designed and landscaped

1926

General Billy Mitchell arrives in Grand Junction to promote strengthening of U.S. air power and the construction of airports
Manuel's Department Store opens (530 Main)
Grand Junction Junior High (which was later Columbine Elementary) and High School Gym completed (9th and Chipeta). Both of those buildings have been demolished and the new Chipeta Elementary stands on that site.
City's electric street cars replaced by buses
First car show held in Lincoln Park Auditorium

1927

Hoel-Ross renamed Ross Business College

1928

Skaggs Safeway, Inc. at 119 N. 6th, 418 and 561 Main (former PigglyWiggly Stores)
The Daily Sentinel starts publication of Al Look's On Guard column

1929

Colorado River Compact divides water among seven states
Low cost merchandiser S. H. Kress, a national chain, constructs building (500 block of Main; now Mercantile Building)
Grand Junction Lion's Club holds first carnival
1930
The 1930s
The Great Depression dominated the country in the 1930s. Grand Junction's regional economy eased the harshest effects. This was not a manufacturing center, with closed factories and large numbers of unemployed. Growth was slow, but the 1930 population was 10,247, an 18.3 percent growth from 1920. Despite the economic depression of the 1930s, peach production remained fairly profitable. Palisade was the major peach orchard zone, but the Redlands and Bridgeport also had extensive production. Fruit picking sacks, with a bottom which opened easily for emptying, were widely used. They were patented in December 1900 by George W. Bowman who lived in Palisade. His wife, Nancy Cutter Bowman, is credited for the idea because she would use her apron to hold fruit while picking so it didn't bruise. The Mountain Lion Fruit label adorned millions of boxes. Wooden baskets also were used widely. There were many pear orchards as well, chiefly around Clifton.
Agriculture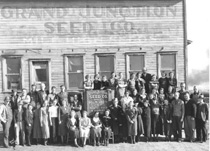 Farmers needed seeds for their many crops, and the Grand Junction Seed Company with its Mile High Seed brand was a main supplier. The Grand Valley is superior for various crops. Red clover is an example, and the seed company would contract with farmers to grow clover for tons of seeds which were sold locally as well as nationally. They exported and imported a wide variety of seeds, including flower seeds and bulbs. (Dean Photo)
Business
The City Market chain was started by the Prinster brothers with one small grocery store in Grand Junction in the 1920s. Grocery stores typically were not large. Supermarkets with wide selections and lower prices were an idea of the l930s. City Market opened the first of their many supermarkets at 4th and Rood in 1939. (City Market Photo)
Community
Radio was expanding rapidly across the nation. Grand Junction's first station was on the air January 13, l931 as Rex Howell established KFXJ, which later became KREX. It was the first station of a radio and TV network called the Western Slope Broadcasting. Company. His television station was the first in town in 1954. In the following decades other broadcasters established several radio and television stations here, as well as cable TV. (The Daily Sentinel)
Culture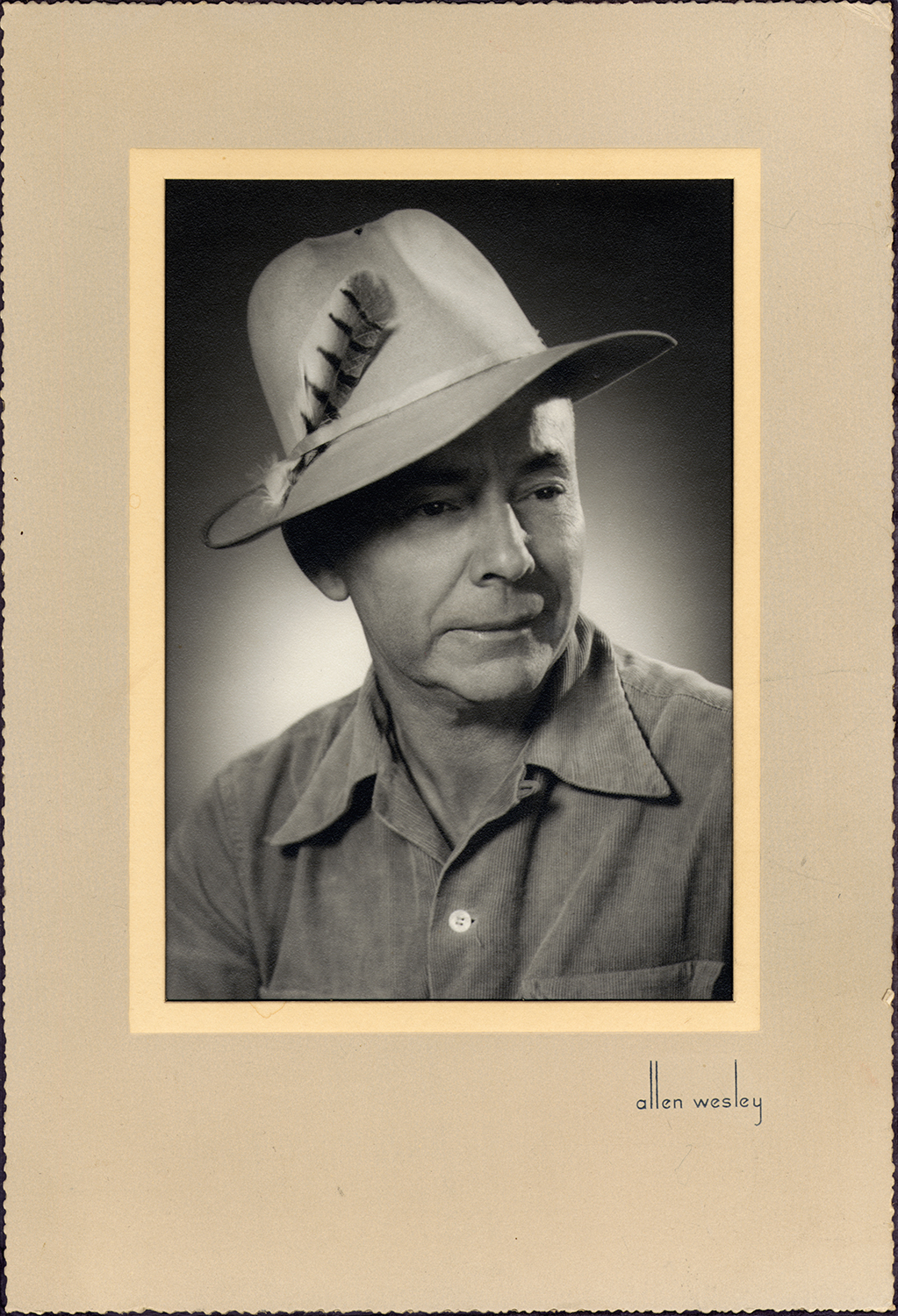 Alfred Nestler (pictured) was a noted local artist, and he was proficient in many themes and techniques. The Western Colorado Center for the Arts has a Nestler collection. Harold Bryant was another local artist with a national reputation. A large collection of his paintings also is held by the arts center. Bryant's canvasses had western locales, and in the 1930s he was at his apex. 
(Allen Wesley Photo)
Education
The entire town was enthused about the 1936 Grand Junction High School Tigers football team. They made widespread sports news as they played an entire season without being scored upon. The toughest game was in Salida. A special train carried fans to the meet which the Tigers won, breaking Salida's winning streak of 39 games. The 1936 season total was Tigers 506 to 0 for their opponents. Rah Rah Tigers! (1937 Grand Junction High School Annual)
People
Walter Walker was editor and publisher of the Grand Junction DAILY SENTINEL from 1917 to 1956. He was an ardent supporter of every advance in Grand Junction and western Colorado. A force in politics, he was appointed by the governor to the United States Senate in 1932 to fill out the term of the late Senator Waterman. On the national level, Walker was a member of the committee which wrote the 1932 Democratic platform called the New Deal by Franklin Roosevelt. Walker was a delegate to eight consecutive national conventions, a state record. (The Daily Sentinel)
Recreation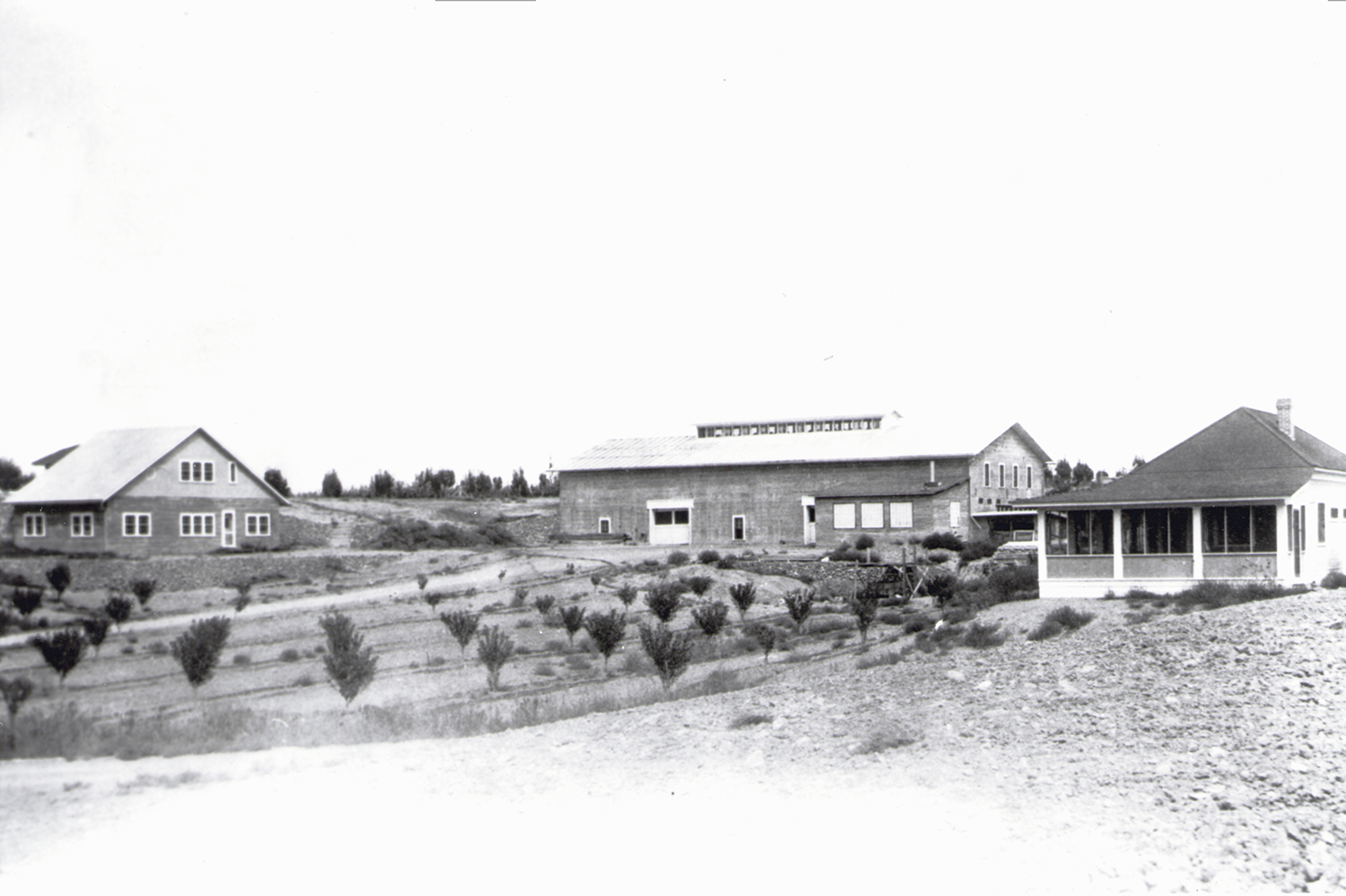 Copeco was a large pear and apple orchard owned by Earl Craven and partners. There was a club house for employees, and the spacious fruit packing building had a hardwood floor which also served for dances. Beginning in the 1930s a commercial dance hall, called Copeco, occupied the building. Dancing was popular, with a dozen ballrooms in the valley.
Transportation
The Grand Junction Municipal Airport was on 700 acres where the larger current airport is located. It was dedicated June 14-15, l930. The first runways were unpaved. There was one hanger with a windsock, and planes including an Eaglerock Biplane (pictured). In 1942 the airport was named Walker Field for the newspaper publisher who was a strong backer. During World War II, hundreds of Army and Navy cadets received basic flight training at Walker Field. (Dean Photo, Walker Field Airport Authority)
Details by Year:
1930

Grand Junction Municipal Airport dedicated
Western Marketing Association formed by local dairies
Pioneers hold reunion
Sally Ann Bakery established (later Holsum)
Glider club formed
Mesa Air Transport begins charter service
Over 36,770 people visit Grand Mesa

1931

KFXJ, Grand Junction's first radio station, on the air
Building boom; building permits total over $41,000
Colorado Poultry Association formed
Grand Junction is second biggest retail center in the state
Grand Junction officially becomes division headquarters for Denver and Rio Grande

1932

Grand Junction celebrates 50th anniversary
Glider pilot is first local air fatality
Walter Walker helps draft Democratic Platform and New Deal legislation
Al Look's On Guard column and The Daily Sentinel begin Soupeaters; provides Christmas gifts for poor children and their families

1933

21st Amendment repealed, Federal Liquor Prohibition ends
Civilian Conservation Corps (CCC) established by New Deal legislation
Forest Service approves Lands End Road construction
U.S. Bank (now Wells Fargo) only one in Mesa County left solvent after national "Bank Holiday"
CCC and Works Project Administration (WPA) begin building Rimrock Road across Colorado National Monument; cavein kills 9 Local Experienced Men (LEMs)
New Fifth Street Bridge dedicated

1934

Congress passes Taylor Grazing Act
30,000 cases of tomatoes/tomato juice packed at Grand Valley Canning Factory (Appleton) sets record
Growers join to eradicate Peach Mosaic disease

1935

Taylor Grazing District #1 operations launched
Grand Junction District created to oversee Colorado CCC camps west of the Continental Divide
Mesa College Orchestra founded (now Grand Junction Symphony)
Former resident Dalton Trumbo publishes Eclipse, a novel about Grand Junction that scandalizes the community
KunerEmpson purchases Currie Canning Factory
Freight service ceases along Interurban rail route (Grand Junction to Fruita)
First annual Christmas bird count held

1936

Farm income highest in years
C.D. Smith opens new offices and warehouse (5th and Ute), now the Museum of Western Colorado
Jasper Fuoco opens Champion Boots and Saddlery
Undefeated Grand Junction High School team wins State A Football Championship
Downhill skiing begins at course near Lands End Road

1937

Black cowboy, Charlie Glass, dies in automobile accident
John Page, former superintendent of the Grand Valley Irrigation Project, receives presidential appointment as Commissioner of Reclamation
Ed Holt unearths three dinosaurs at Riggs Hill
Johnsons House of Flowers opens locally
Jeannette Morris slain in Barbary Coast shanty
Eddie Drapela contracts with government to provide civilian flight training (develops into navy cadet flight training program during World War II)
Grand Junction Junior College renamed Mesa College by statute; tax support initiated for budget
Grand Valley Rural Power is first rural power association in state
Grand Junction Kiwanis Club founded
Archaic mammal fossil, Sparactolambda looki, named for Al and Alfred T. Look

1938

Chamber of Commerce installs plaques at Dinosaur and Riggs Hills commemorating 1900 and 1901 Field Museum, Chicago, dinosaur finds
President Franklin Roosevelt addresses audience of 10,000 at railroad depot
New Grand Junction Public Library building completed (5th and White)
GJHS wrestlers are state champions
Coffee Shop owner Pete Leventis murders Jim Patsios; KFXJ Radio does first live report broadcast from scene of crime
Owner Big Kid Eames killed in Biltmore Gambling Club shooting (4th and Main)

1939

World War II begins in Europe
Special Grand Jury convened; investigates local crimes including several murders, local law enforcement, gambling and prostitution
Joe Arridy, escapee from State Home for Mental Defectives (Grand Junction), executed for Pueblo homicide
City Market opens first supermarket in Western Colorado (4th and Rood)
Peach Board of Control (later Peach Administrative Committee) founded
Rio Grande Motor Way, Inc. supplies long distance bus service from new passenger station (230 S. 5th; later Continental and now Greyhound); Pig Parlor Restaurant (with pink neon pigs) located in terminal
World War I veterans organize Last Squad Club
1940
The 1940s
World War II engulfed the nation from 1941 to 1945. Grand Junction contributed to the new Atomic Age which ended the war. Afterward, the city continued as a part of the national atomic energy complex. The 1940 population was 12,479, a 21.8 percent increase through the 1930s, despite the Depression
World War II brought shortages of many commodities, and the government issued ration books to citizens. Coupons entitled customers to buy allotted amounts of goods like canned food, meat, butter, shoes and gasoline. Coca-Cola was not rationed. It was available in its curvaceous glass bottles, not in cans. Military uniforms were well tailored of durable fabrics, and included headgear.
This is an Army hat, and soldiers were obliged to wear a "cover."
Agriculture
World War II put the entire national economy into high gear, and agricultural production and prices were boosted out of the Depression doldrums. Mesa County fruit, livestock and field crop production flourished. Canning factories, like the large Kuner-Empson facility, operated at full capacity. It was located on South Eighth Street near the railroad.
Business
The La Court Hotel at 2nd and Main Streets was operated by the Buthorn family for two generations. The lobbies were handsome, the dining room was noted for its cuisine, and the Green Room hosted service clubs and banquets. During the 1940s and 1950s their steak house, known as The Tavern, was a main center for uranium developers and investors to meet and strike deals.
Community
The attack on America at Pearl Harbor, December 7, 1941, plunged the nation into World War II. Mesa County's James Massey and Harold Wood were among the fatalities on that first day. Many hundreds of our Grand Junction men and women were soon in all the military branches, serving around the world.
Culture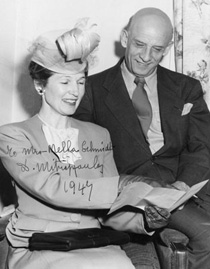 The very successful Columbia Concert Series began in 1944, and still continues at the Mesa County Community Concert Association. Many outstanding musicians, and occasionally theater and dance troops, appear during the annual season. Mrs. Melba Schmidt was a founder, and the president for 15 years. With her is Dimitri Mitropolulos, celebrated conductor of the Minneapolis Symphony who performed here in 1947.
Education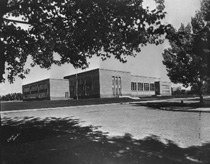 Mesa College was ready for relocation, and 1940 saw the opening of the first building on a new campus at 12th and North. The building incorporated classrooms, auditorium/ gymnasium, administration and library. It now is named Houston Hall for Clifford Houston who was third head of the college, from 1932-1937. It has been remodeled, but the appearance is much the same.
(Dean Studio Photo, Mesa State Archives, Tomlinson Library, Mesa State College)
People
Army Captain Phillip Couzens Leahy headed a project which had international impact. Few people knew of this at the time, because it was part of the government's secret Manhattan Project which developed the atomic bomb. From March, 1943 to March, 1946 he directed the discovery, refining and procurement of uranium from the Colorado Plateau for atomic research. He became the first manager of the Atomic Energy Commission Compound from 1947 to 1949.
(T. McGill Photo, U.S. Department of Energy)
Recreation
On the west side of Grand Mesa, the Lands End Road is a challenging climb. A long steep grade, it has multiple curves and sharp turns. It was the site of car races on the Fourth of July, 1940 and 1941, and then again in later years. Louis Unser, winner of many Pikes Peak Hill Climbs, declared Lands End was the most difficult course in the nation. Among the 16 racers in 1941, there were two French drivers who imported their Talbot cars. Bob Baughman was one of the local contestants, shown with the racer he built.
(Photo courtesy James Baughman)
Transportation
On April 1, 1946 Western Airlines established regular flights to Grand Junction on the Denver and Los Angeles routes. This was the beginning of major airline service here. Monarch Airline, which became Frontier, began multiple daily flights on January 17, 1947. On September 15, l947 United Airlines assumed the Western routes.
(Midwest Photo)
Details by Year:
1940

Denver and Rio Grande Western Railroad enjoys banner year; payroll $3,775,000
Mesa College moves to new campus (12th and North)
Mesa County Library established in Old Lowell School (5th and Rood)
GJHS wins state football, track and field championships
First Lands End Hill Climb car race held

1941

Harold Wood and Philip Massey killed during Pearl Harbor attack; thousands from Mesa County to serve in Word War II
Railroad transports 19,000 cars of products grown locally
Gaylan Johnson starts service station and tire/recap business (7th and Main)
WPA constructs new Lincoln School (now Lincoln Orchard Mesa Elementary School on Orchard Mesa)
New Redlands School constructed by WPA (now Church of the Nativity)

1942

Grand Junction Municipal Airport renamed for Walter Walker
Western Colorado Boy Scout Council formed
GJHS wins state wrestling championship

1943

Airport hangar burns; eight airplanes destroyed
War Department acquires 55.71 acre site between D & RGWRR and Gunnison River for Project X (later AEC;
Department of Energy Grand Junction Projects Office)
New vanadium mills open in Grand Junction and Durango to secretly produce uranium
Grand Junction shelled when two railroad cars carrying munitions explode in railroad yard
750 German prisoners of war help harvest peach crop; crop brings in around $5,500,000
Grand Valley agriculture brightest spot on state's agricultural map
Program launched to increase Victory back yard vegetable gardens for war effort
Local clubs establish Mesa County Service Center in YMCA to provide servicemen and women with entertainment, Saturday night dances and refreshments
Avalon Theater produces Yankee Doodle Girl to benefit Mesa County Service Center

1944

Federal Synthetic Liquid Fuels Act authorizes design, construction and operation of plants to produce fuels from oil shale
Columbia Community Concert Series (later Mesa County Community Concert, Inc.) opens first season
Veteran's Intermountain Memorial Park incorporates (Orchard Mesa)

1945

Residents celebrate VE and VJ days, World War II ends
U. S. Bureau of Mines begins Anvil Points Oil Shale project west of Rifle
City Market opens stores in Delta and Montrose
Insectory established in Palisade to produce insects beneficial to agriculture

1946

Mesa Memorial Hospital opens (740 Main; later joins Community Hospital)
U.S. Grazing Service and Government Land Office merge as Bureau of Land Management
Intermountain Bible College opens(12th and Bunting)
Edgar & Corn (later Corn Construction) in road construction and paving
Western Airlines begins airline service to Grand Junction and Western Colorado
U.S. Weather Bureau Office moves to Walker Field
Gem and Mineral Club founded (Grand Junction Gem and Mineral)

1947

Samuel G. McMullin murder trial makes headlines
Columbus Community Church installs Heart's Desire Bell
Colorado Printing opens
Atomic Energy Commission establishes Grand Junction Projects Office
United Airlines purchases Western Airlines routes
Roper Music opens
Bray and Company Realtors established
First Monarch Airlines DC3 lands in Grand Junction
Starlight, first drive-in movie theater, opens at 24th St. and North Ave.
Clifton, Fruitvale and Pear Park join together to become Central School District #48.

1948

Wayne Aspinall first elected to Congress
E.L. Bacon purchases United States Bank of Grand Junction (now Wells Fargo)
Landslide in DeBeque Canyon caves in a section of the Highline Irrigation Tunnel
Abbott Tessman starts KEXO (second radio station); radio personality Bob Collins brings his Uncle Bob Show from Ohio (later moves to KREXTV)
Homestyle Bakery opens
Dr. Geno Saccomanno establishes pathology departments; St. Mary's and the Veteran's Administration hospitals
President Harry S Truman visits Grand Junction during Whistle Stop Tour
Orchard Avenue Elementary School completed
Eagles, semiprofessional baseball team formed
First graduating class from the "new" Central High School in the spring (located in an old adobe building at 29 Road and North Avenue, formerly both Fruitvale Elementary and High School)

1949

Remodeled Old Lowell School becomes City Hall, 5th and Rood
Veterans Administration Hospital dedicated on North Avenue
Preston Walker, Daily Sentinel editor, named Colorado's outstanding newspaper editor
Osteopathic Hospital (later Community) reorganized
Colorado Broadcasters Association established (Rex Howell cofounder)
Denver and Rio Grande Western Railroad begins California Zephyr service
New airport terminal constructed at Walker Field
New 2,300 seat Lincoln Park Stadium dedicated
1950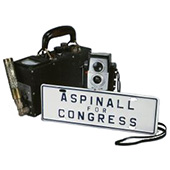 The 1950s
During the 1950s, the turbulence of the Great Depression, World War II and Korean War were succeeded by a nation focused on the pursuits of peacetime. Grand Junction also thrived, and the uranium industry was an added stimulus. Population in 1950 was 14,504, a 16.2 percent growth through the 1940s.
"Aspinall for Congress" automobile tags were common in Grand Junction during elections. Wayne Aspinall could always count on solid support in Mesa County. Geiger counters measure the radioactivity of uranium. Many Geiger counters were manufactured in Grand Junction during the uranium boom. Brownie cameras were inexpensive, simple to operate, and a favorite.
Agriculture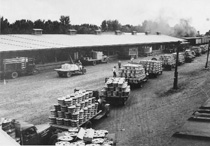 Fruit from the Grand Valley continued its reputation for top quality. The peach orchards produced record crops at good prices. There were 900,000 trees and more than 800 orchards. However, pear and apple orchards continued to be replaced by general farming, and subdivisions continued to encroach on prime agricultural lands.
Business
Wholesale firms in Grand Junction supplied businesses in Western Colorado and Eastern Utah. In Colorado, the wholesale businesses in Grand Junction were second only to Denver. The wholesalers flourished, especially in the booming 1950s. Biggs-Kurtz Hardware dealt in all lines of light and heavy hardware. The Independent Lumber Company had 19 lumber yards regionally, and was both wholesale and retail. The C. D. Smith Drug Co. had both drug and chemical divisions. Other wholesalers provided groceries, paper, dairy products and petroleum, to name a few.
(Midwest Photo)
Community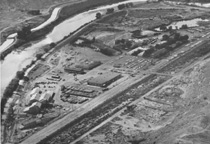 Uranium mining and milling became a large industry on the Colorado Plateau. The Grand Junction Operations Office of the United States Atomic Energy Commission was headquarters for the enterprise, and bought all the uranium produced. Grand Junction also was home base for as many as 35 mining companies, including area offices of major mining corporations.
(The Daily Sentinel, U.S. Department of Energy
Culture
Artist groups had long planned for an arts center. The Western Colorado Center for the Arts dates from 1953 when the Mesa County Arts Center Board was incorporated. They bought a building near 7th and Orchard (pictured), and opened it in 1960. A hexagonal building was added in 1970, and there have been further additions. By the 1990s art instruction and exhibits in the galleries were provided year around, and the auditorium hosted music, drama and dance.
(Frank Bering Photo)
Education
The expanding student population of Grand Junction prompted the building of a new high school in 1955 on North 5th Street. It was designed in a clean lined, modern 1950s style by architect Paul Atchison of Denver. The auditorium was made large enough to serve also as a civic auditorium.
(1958 Grand Junction High School Annual)
People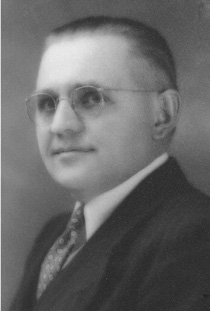 Wayne Aspinall was the U.S. Congressman from this District from 1949 to 1973, becoming chairman of the powerful House Interior and Insular Affairs Committee in 1959. Serving until 1973, he was chairman in this important post longer than any other congressman. Dams, reclamation, mining and forestry are crucial to the West, and he was vigilant in promoting those interests. A masterful legislator, he managed over 1,000 bills in the House, and every one passed.
Recreation
The National Junior College Baseball Tourney, nicknamed JUCO, moved here in 1958. It has wide local support. The top ten junior college teams from across the nation come here to compete to be number one. In the spring, JUCO guarantees a rousing series of games which fill the stadium with avid sports fans. This is at Suplizio Field in Lincoln Park.
Transportation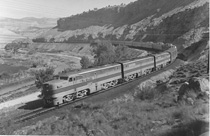 Railroads were vying with aggressive airlines for passenger business. Interstate highways also made long distance driving more convenient. Streamlined luxury trains were the railroads' answer. The Denver and Rio Grande had the sleek California Zephyr with Vista Dome cars, gleaming in stainless steel. It ran from Chicago to San Francisco via Grand Junction.
(Warren Kiefer Photo)
Details by Year:
1950

Climax Uranium converts old sugar beet factory into vanadium/uranium processing mill
Mesa Mavericks begin domination of conference baseball, champions every year except four, 1950-75
Rimrock Road on Colorado National Monument opens when improvements are completed
Challenger and Monarch airlines merge to form Frontier Airlines

1951

President Truman authorizes use of U.S. forces in Korea; local residents go to war
Harold Moss first Western Slope agent, Federal Bureau of Investigation (FBI)
Mesa County Society for Crippled Children and Adults establish therapy program (leads to Hilltop Hospital)
New St. Mary's Hospital dedicated at 7th and Patterson
Grand Junction first town in state to fluoridate water
Schools consolidate; Mesa County Valley School District #51 formed
Peak peach production reaches 1,500,000 bushels

1952

John Otto, Father of Colorado National Monument, dies in California
Chief DriveIn Theater opens on North Avenue
Monarch Aviation offers charter flights and airplane sales
Mesa College basketball squad first Maverick team to reach national playoffs
GJHS wins state baseball title
Mesa County Fine Arts Center incorporates

1953

U.S. Bank installs first bank driveup (4th and Colorado)
Mesa County Arts Center Board incorporates
Chipeta Girl Scout Council established

1954

President Dwight D. Eisenhower speaks at Walker Field
KFXJ (now KREX), first local television station, goes on the air
Ute Water Conservation District formed
3,000 contact AEC every month seeking information on prospecting to find uranium ore
Club 20 organizes to promote the interests of 20 Western Colorado counties
Robert Guyton starts The Sands miniature golf course (later named Guyton's Fun Junction, North Avenue)
Jewish Congregation of Grand Junction chartered

1955

Rocket DriveIn movie theater opens on North Avenue
Walter Walker dies; Preston Walker becomes third Daily Sentinel publisher
Ray and Joyce Quan open Far East Restaurant
Bud Fleming and Burt Allred form B & B Electric
Appleton School burns down

1956

Moyer Pool expands at Lincoln Park
Members of ITU (typographers union) strike against The Daily Sentinel
Central High School erected, formerly Fruitvale High School
LatinAnglo Alliance formed, holds first Fiesta
Mesa County Sheriff's Posse organized
Jungle Bar at Café Caravan has live, caged monkeys and a neon sign with a nodding giraffe head
New Grand Junction High School opens (5th and Glenwood)

1957

Grand Junction celebrates its Diamond Jubilee
Sheriff's Posse holds first Colorado Stampede Rodeo
Dale Hollingsworth, new Chamber executive officer
Public Service opens steam powered electric plant at Cameo
St. Nicholas Hellenic Orthodox Church constructed; replaces home services held since 1935
GJHS wins state football; state track and field championships
Bookcliff Country Club and Golf Course officially open
Local chapter of World War I Veterans of the USA, Inc., formed

1958

DeBeque Canyon landslide heaves roadway 23 vertical feet
Fraternal Order of the Eagles (F.O.E.) donates Ten Commandments Monument to the City
Junior College World Series (JUCO) relocates to Grand Junction
New Pomona School constructed (Patterson and 25 1/2 Road)
GJHS wrestlers win state championship

1959

Wayne Aspinall assumes chairmanship of the U.S. House Interior and Insular Affairs Committee
Gene Taylor opens Rod and Gun Shop in downtown Grand Junction
Mildred Hart Shaw begins Great Books program
GJHS wins state track and field championship
United Way of Mesa County founded
Current Central High School building on E Road first occupied
1960
The 1960s
The 1960s saw significant new developments. The Interstate Highway system reached here, and put Grand Junction on that important national transportation grid. The innovative downtown shopping park drew national attention. The city's population in 1960 had reached 18,694, a 28.9 percent increase over 1950.
The All America City recognition inspired widespread use of its logo. Even ash trays were adorned with the city's new honor.
The metallic red shoes with spike heels and pointed toes were dress-up shoes for teacher Gladys Conway. A hat, gloves and purse also were included in a woman's ensemble.
Agriculture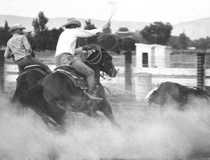 Cattle, sheep and horses were characteristic of ranches surrounding Grand Junction. In the West, riding and roping skills led to rodeo competitions. They evolved into dramatic professional rodeos, such as the Colorado Stampede Rodeo, sponsored annually by the Mesa County Sheriff's Posse at the Fairgrounds on Orchard Mesa.
(Mesa County Sheriff's Posse Photo)
Business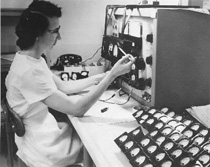 New technological developments in electronics spurred its manufacturing. Electronic manufacturing plants began to open in Grand Junction to take advantage of the available labor force. Dixson, Ultronix, and Hickok were some of the manufacturers. Lower labor and distribution costs elsewhere lead most of them to move away in later decades.
(Bruce Dixson Photo)
Community
Main Street in Grand Junction was becoming congested with traffic, and streets and walks were aging. In the spring of 1962 Operation Foresight began reconstruction of the infrastructure, and also expanded the parking available. In May 1963 the project was completed, including extensive landscaping. The city was awarded All America City recognition by Look magazine for the innovative and successful downtown shopping park.
(Perry Studio Photo)
Culture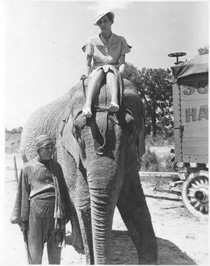 Mildred Hart Shaw ( here atop an elephant ) was a reporter, an editorial writer, and then book reviewer on the Daily Sentinel from 1936 to 1980. From 1959 to 1970 she also mentored the Junior Great Books reading and discussion groups for high school students. Many were intellectually stimulated by these sessions, and went on to excel at colleges and universities.
Education
Mesa College dedicated the Walter Walker Fine Arts Center on November 21, 1969. The auditorium presented the Performing Arts of music and drama. Instruction for those fields was provided in adjacent studios and classrooms. A nearby building had workshops, studios and kilns for the Fine Arts of painting, drawing, sculpture, metal and ceramics.
(Mesa State Archives, Tomlinson Library, Mesa State College)
People
Dale Hollingsworth was manager of the Grand Junction Chamber of Commerce from 1957 to 1968, and 1970 to 1984. As head of the Chamber, Hollingsworth was a leader in promoting the city and the area. Operation Foresight rejuvenated downtown, and the Chamber of Commerce was an important facilitator.
(The Daily Sentinel)
Recreation
Skiing on the Grand Mesa had a major shift when the Powderhorn Ski Corporation bought the assets of the modest Grand Mesa Ski Club. In 1966 they cleared new runs, built the first of four chair lifts, and a lodge. Other expansions have followed. Powderhorn is now a large modern ski resort with a ski school, Nordic and Alpine terrain, ice skating rink and condominiums.
(Bob Beverly Photo)
Transportation
The national Interstate Highway system was initiated in the 1950s. Interstate 70 reached Grand Junction in the 1960s. The highway through Glenwood Canyon was the final link in the national system and was not finished until the 1990s.
(The Daily Sentinel)
Details by Year:
1960

Chet and Vernie Enstrom establish Enstrom's Almond Toffee
Mesa County Arts Center, Inc., opens (7th and Orchard; now Western Colorado Center for the Arts)

1961

Peak uranium production year, 8,000,000 tons of raw ore refined
Grand Junction High School wins state baseball title

1962

Operation Foresight transforms Main Street into pedestrian mall; Joe Lacy, City Manager

1963

National Municipal League and Look Magazine name Grand Junction AllAmerican City
Dixson, Inc., relocates from Vashon, WA; merges locally with General Meter, Inc.
TriRiver Area Extension Service replaces Mesa County Extension Service
Freak freeze of 23 degrees below zero kills many Palisade and Redlands peach trees
First floor of new main Grand Junction Fire Station completed (330 South 6th)
GJHS wrestlers are state champions

1964

Teller Arms Shopping Center opens (North Avenue)
Mesa Federal Savings and Loan opens new building (6th and Rood)

1965

William M. Ela, third generation community member, named District Court judge
Colony Oil begins operation of 1,000 tons per day oil retort near Grand Valley (Parachute)
New post office opens (on 4th between White and Rood)
GJHS wrestlers repeat as state champions
I-70 Interchange with Horizon Drive completed

1966

Chester K. Enstrom appointed State Senator
Holiday Inn opens on Horizon Drive
Powderhorn Ski Area opens on Grand Mesa, expands existing ski courses
United Cable TV licensed
 Museum of Arts and Sciences opens (now Museum of Western Colorado)

1967

Grand Junction Older American Center established
Mesa County purchases Veterans Intermountain Memorial Park
Mesa County and Grand Junction Public libraries merge to form Mesa County Public Library
La Court Hotel closes
GJHS wrestlers are state champions

1968

Grand Junction Police Department hires first female dispatcher, 2 meter maids, 1 secretary/police matron
GJHS wrestlers repeat as state champions
Museum of Arts and Sciences reorganized as Historical Museum and Institute of Western Colorado (now Museum of Western Colorado)
Mesa County Arts Center changes name to Western Colorado Center for the Arts

1969

Underground nuclear blast near Rulison does little to free natural gas
W.R. "Bob" Bray named Colorado Realtor of the Year
Dillon, a large grocery chain, purchases City Market
Mesa College dedicates Walter Walker Fine Arts Center
Young Men's Christian Association (YMCA) building torn down, 5th and Rood
1970
The 1970s
During the 1970s, citizens were able to afford hot air balloons, sail planes and fine horses. More prosperity was expected as regional corporations invested in huge shale oil projects. In 1970, the beginning of that decade saw a population of 20,170, a 7.9 percent increase in ten years.
Oil shale artifacts include a cylindrical core sample of gray shale with petroleum traces. The cast aluminum retort is for weight testing shale oil. The desk set has a slab of oil rich "mahogany ledge", and fossil leaves. This is from the desk of Grand Junction attorney Owen Aspinall, who was governor of American Samoa 1961-69.
Agriculture
Horses for farming and transportation mainly were replaced by cars and trucks in the early 1900s. In the Grand Valley, horses began to be used more widely for recreation. Well bred, highly trained steeds began to be raised on the acres of profitable horse farms. Hunting, trail rides, dressage, and the Sheriff's Posse were enjoyed by riders and their mounts.
(The Daily Sentinel)
Business
To meet new business circumstances, the Downtown Development Authority was initiated by Grand Junction business owners in 1977. West of town, a mall began in the late 1970s and it has grown into a regional shopping center. Typically, malls deplete old downtown areas. The DDA has kept the Main Street Shopping District viable and thriving. Benge's Shoe Store has been on Main Street since 1911, and is a DDA member.
(Benge's Shoe Store Photo)
Community
Banks, and savings and loans needed to expand to new and larger quarters. Valley Federal Savings and Loan chose to erect a tall building with offices for lease on the upper floors. Opening day was November 25, 1974. The building at 5th and Rood is now the Alpine Bank. Mesa Federal Savings & Loan, and Modern Savings and Loan also had handsome new buildings.
(Jerry Van Wyngarden Photo)
Culture
The Grand Junction Musical Arts Association was formed to promote orchestras, opera and dance. The Mesa College Orchestra came under its wing and was reorganized as the Grand Junction Symphony. The first season was 1978-1979. A full season of classic concerts is offered, as well as pops and children's concerts. The Nutcracker Ballet is a December symphony tradition.
(Photo courtesy Grand Junction Musical Arts Association
Education
Girl Scout and Boy Scout troops teach young people many skills which have lifelong value. Personal character, knowledge, the lore of nature, crafts and recreation are aspects of the multi faceted program. Scouting is a valuable addition to formal education. Summer and winter camps on Grand Mesa are settings for learning and recreation.
(Lynn Hoffman photo)
People
Jane Quimby was a busy citizen with a large family, who still made time for community involvement. She served on the City Council from 1973-1981 and was mayor 1979-1980, the first woman in that post. Jane Quimby also was a founder of the Grand Junction/Mesa County Riverfront Commission, and of the Western Colorado Community Foundation.
(The Daily Sentinel)
Recreation
Gliders, also called sail planes, have no engines and rely on air currents to power them. They soar as quietly and gracefully as birds, their use becoming popular here in the 1970s and 1980s. Desert hills of the Grand Valley generate strong updraft thermals for soaring. Bill Hill set an international record by flying a 300 km triangular course at an average 120 k.p.h.
(Joe Kendrick Photo)
Transportation
Hot air balloons carried a few animals and people aloft in the late 1700s. They evolved into massive, passenger carrying Zeppelins which crossed oceans in the 1900s, but faster airplanes prevailed over them. Colorful hot air balloons have made a comeback, with balloon and passengers propelled by breezes. The first balloon rally here was November 25, 1978.
(David Canaday Photo, all rights reserved)
Details by Year:
1970

Lincoln Park Zoo closes
Preston Walker dies; Ken Johnson becomes fourth Daily Sentinel publisher
Tilman Bishop first elected to State Legislature
Mesa County changes from 7th to the 21st Judicial District
St. Joseph's Catholic Church begins disbursing food to homeless (becomes Soup Kitchen program)
New building replaces Columbus School (now New Emerson in the Columbus Building, Orchard Mesa)
Arts Center adds new hexagonal building
80 people are injured and 25 are hospitalized at St. Mary's as a circus tent blows down with 800 spectators inside.

1971

Oil Shale Regional Planning Commission established
Greenbelt, Inc. established to help construct park along river, 32 Road to Connected Lakes
The Daily Sentinel moves business offices, advertising, etc. to new South 7th location
"Supersaurus" dinosaur unearthed in Mesa County, near Delta County border
Fruita Monument High School constructed
Grand Junction Junior High closes; East and West Junior highs open
Save the Barn campaign keeps Lincoln Park Auditorium from demolition
Veterans Administration Hospital volunteers create "Avenue of Flags" to honor fallen servicemen and women
Pranksters unscrew 128 light bulbs at football field, Lincoln Park

1972

Masonic Temple, 438 Rood, torn down; new temple opens, 2400 Consistory Court
Western Colorado Audubon Society founded
LDS Family History (Geneological) Library founded in 1972
Lincoln Park baseball-football stadium named for Ralph Stocker, former Parks and Recreation Director

1973

Colorado Health Department begins uranium mill tailings removal project
Three underground nuclear blasts occur in Piceance Basin as part of Project Rio Blanco to release natural gas deposits
Boy's Club erected by Sherwood Park
Second Lowell School, 7th and Grand, becomes R5 High School for alternative education
342 acre Walker Wildlife Refuge (near 22 Road) named in honor of the late Preston Walker, The Daily Sentinel Publisher

1974

Maxine Albers first woman elected Mesa County Commissioner
Fires devastate S. 7th Street; extensively damages The Daily Sentinel building
President Gerald Ford flies to Grand Junction aboard Spirit of America
Marmot Mountain Works, manufacturers of outdoor clothing and equipment opens at 226 Pitkin; (former Stranger's Grocery)
Mesa County Public Library moves to 5th and Grand
Valley Federal Plaza, 10 story building, opens at Fifth and Rood (now Alpine Bank)
Mesa College becomes a four year school
County deeds Duck Pond Park area (Orchard Mesa) to city for a park
Longtime Mesa College coach Bus Bergman named to JUCO Hall of Fame

1975

Bruce Alan White, local Vietnam veteran dies in area helicopter crash (American Legion Post #200 renamed in his honor; first in state named for a Vietnam vet)
Grand Junction experiences a series of unsolved murders from 1975-1978; serial killer Ted Bundy confesses to one in 1989
Two Rivers Convention Center opens (159 Main)
American Lutheran and other local churches begin sponsoring Vietnamese refugees
Kenneth Botham convicted of four murders
KMSA, Mesa College radio station, goes on air
Mesa County Historical Society founded
Mesa County Oral History Project begins

1976

Naturalized Basque immigrant Gene Urruty receives Americans by Choice Award
Grand Junction resident Jim Petty breaks all records for world's tallest unicycle ride
U.S. celebrates Bicentennial
Pathfinder Regional Library Service System established to support publicly funded libraries (one of seven multitype organizations in State)
Jewish Community of Grand Junction reorganized as Jewish Community Center of Grand Junction
Women's athletics expanded at Mesa College; intercollegiate volleyball and basketball teams fielded

1977

Coors Ceramics opens plant
Downtown Development Authority founded
Mesa County Partners established, pairing youths at risk with adult mentors
Colorado Limited Winery Act establishes class of small wineries (less than 10,000 gallons)
Fire destroys Army Store, 461 Colorado (location of first city hall, fire department, and jail)
Second floor completed on Main Fire Station, 330 South 6th Street
Mesa Monument Striders Running Club organizes
Historical Museum and Institute of Western Colorado renamed Museum of Western Colorado
Fruita Paleontological Area created; management plan crafted

1978

Rick Enstrom, 24, youngest Mesa County Commissioner ever elected
Boise Cascade acquires Independent Lumber Company
Hilltop Rehabilitation Hospital opens new facility at 12th and Patterson
Mesa College Orchestra, reorganized as Grand Junction Symphony Orchestra, hosts first season (1978-79)
Central H.S. wrestlers are state champions
Paul Nolen, GJHS, state golf champion
Gene Urruty builds Basque handball court at 24 and G Roads
First local balloon rally held

1979

Jane Quimby first woman mayor of Grand Junction
The Daily Sentinel sold to Cox Newspapers, Atlanta, Georgia
KJCT-TV begins broadcasting
Mesa County Chiropractic Association formed
U.S. Bank completes new building at 4th and Main (later Intrawest, Norwest, and now Wells Fargo)
Folkorico Dancers organized
American Legion Post #200 named for Bruce Alan White
Gigantic "Ultrasaurus" dinosaur discovered at Dry Mesa Quarry
1980
The 1980s
Prospects looked dynamic in 1980, but the collapse of the oil shale industry in 1982 lead to a drastic retrenchment. Nonetheless, Grand Junction celebrated its centennial with high spirits in 1982. The population had grown to 28,144 in 1980, a 39.5 percent jump from 1970.
The centennial of Grand Junction was a community wide celebration in June, 1982. There were parades, fireworks, concerts, picnics and a pageant in Lincoln Park with costumed citizen performers. This frisbee was one of the products to celebrate the centennial.
Also shown are shirts from bicycle and foot races of the decade.
Agriculture
The agricultural conditions which ensure prime fruit in the Grand Valley, also produce premium grapes. In the 1980s, serious planting of vineyards for wine grapes began around Palisade, and wineries were established. Prize vintages are being developed, and the wineries also are a tourist attraction. Viticulture now is branching out to other areas of the Grand Valley.
(Photo taken at Grande River Vinyards, Palisade, Colorado, 1999, photo by Jack Dykinga.
Business
Mountains with layers of shale stone stretch from Colorado into Utah, and cross northern Mesa County. The shale has vast petroleum deposits imbedded, and in the late 1970s and early 1980s, billion dollar facilities were being built in adjacent Garfield County for shale oil extraction. Grand Junction boomed as a regional oil headquarters. A sudden drop in oil prices halted this, starting May 2, l982. Boom turned to bust, and the economy of this city and the whole area suffered.
(Adam Reeves Photo
Community
Art on the Corner is an outdoor display of sculpture which originated in 1984. New selections are installed in the Downtown Shopping Park for a year, and a number of them have been bought for the permanent collection. The first purchase was Chrome on the Range II, a shiny metal buffalo which is a popular favorite, by sculptor Lou Wille.
(John Hedrick Photo)
Culture
In the late 1940s, the Avalon Theatre had its facade remade in a simple, modern mode during a radical interior and exterior remodeling. It was renamed the Cooper. The facade has been rebuilt in its original style. This 1996 photo shows the restored Avalon with its new/old face. Other downtown buildings also are being restored to their historic appearance.
(Al Hosier Photo)
Education
Not every student is geared toward standard schools and the school district formed the alternative R-5 High School. The curriculum offers more vocational courses and flexible hours, and has been very successful. It is in the former Lowell School, built in 1925. Student input lead to the name R-5, which stands for Readiness, Relevancy, Reinforcement, Responsibility and Respect.
(John Hedrick Photo)
People
Ted and Maxine Albers were King and Queen of the Grand Junction Centennial celebrations in June 1982. Both made an impact in many civic areas. Ted was president of Mesa College 1970-1974. Maxine was the first woman Mesa County Commissioner 1974-1989, serving five terms as chairman of the Board of County Commissioners.
(Judy Armstrong Photo)
Recreation
Our Colorado Riverfront was an overlooked asset. The Grand Junction/Mesa County Riverfront Commission was formed in 1987. Pat Gormley (l) and Governor Roy Romer (r) are shown explaining the plans. Local funds, state lottery and State Parks Board grants, and volunteer labor have cleaned and transformed the river landscape. Parkland and trails, lakes and wildlife habitat, the Botanical Society and its gardens now grace the shores and islands of the Colorado River.
(The Daily Sentinel)
Transportation
A new Walker Field air terminal and parking areas were opened December 15, l982. The terminal is in contemporary architecture, with solar heating features. Auxiliary businesses at the airport also have expanded with extensive airplane sales, maintenance, rebuilding, air charter, flight training and car rental. These enterprises employ hundreds.
(Debbie Hartlerode Photo)
Details by Year:
1980

United Artists Studio releases documentary on Dr. Geno Saccammano's cancer research
Mesa Mall opens
Leitner-Poma of America opens headquarters (chair lift manufacturers)
James Cox Kennedy named The Daily Sentinel publisher
St. Mary's Air Life inaugurated by St. Mary's/Air Methods, Inc.; Carolyn Howard named flight coordinator
County-wide Crime Stoppers program implemented
Little Bookcliff Wild Horse Range dedicated
Remodeled and expanded Mesa College Classroom Building dedicated as Houston Hall
Mesa County Genealogical Society established

1981

Union Carbide closes uranium processing mill at Uravan
Local rancher Robert Burford becomes national Director of the Bureau of Land Management, a sub-cabinet level post (Washington, D.C.)
Pete Mygatt and John D. Moore locate dinosaur fossils at Rabbit Valley (Mygatt-Moore Quarry)
Computerland opens
Central H.S. wins state baseball title
Colorado Mountain Vineyard moves to East Orchard Mesa (near Palisade)
Museum of Western Colorado acquires site for Cross Orchards Historic Farm
Rio Grande Chapter, National Railway Historical Society, organized

1982

Black Sunday: Exxon closes unfinished Colony Oil Shale Project and halts Battlement Mesa town construction; regional depression results
Grand Junction celebrates Centennial
Chapter #57, Vietnam Veterans of America, organizes to spearhead First Vietnam Veterans Day Observance at Sanders Field House, Mesa College
Ackerman Furniture Store burns; arson suspected
Disabled American Veterans (DAV) open Vietnam Outreach Center
Mesa Maverick football team in national NAIA playoffs
Wingate Elementary opens on Redlands
Fruita Monument wrestlers, and girls basketball teams win state titles
Dan Doyl, Fruita Monument, state golf champion
New airport terminal opens at Walker Field
Local musicians organize A Centennial Band

1983

Local residents serve in hostilities in Lebanon; U.S. liberation of Grenada (Caribbean)
Local flooding of the Colorado River makes national headlines; Mesa County asks Legislature for re-building assistance; historic Gunnison River Bridge (Black Bridge) abandoned
Lucy Ferril Ela Audubon Sanctuary established (Colorado River and E Road)
Low income, subsidized housing for the elderly increases: Ratekin Towers opens (9th and Main); construction on Nellie Bechtel Apartments (N. 15th) underway
First Cinco de Mayo celebration held on Main Street
Junior Service League of Grand Junction founded
Dillon Companies (including City Market) merge with Kroeger Company of Cincinnati
Western Slope Auto Company moves to 2264 Highway 6 & 50
$9 million Hilton Hotel opens on Horizon Drive (now Adams Mark)
The Bank of Grand Junction opens
Denver and Rio Grande California Zephyr makes last run; replaced by Amtrak
Redlands Parkway completed
Fruita Monument wins state basketball title; girls basketball team repeats as state champions
Western Colorado Center for the Arts opens remodeled and expanded facility
Orchard Mesa and Palisade pools dedicated
Grand Junction Athletic Club opens

1984

Mesa County Economic Development Council established
New Colorado State Office Building opens at 222 South 6th
Over 1,000 foreclosures in Mesa County after oil shale bust
Bill Fanning, head baseball coach GJHS, named National Coach of the Year
Sheryl Bonaventura killed; serial killer Christopher Wilder suspected
The Daily Sentinel dedicates new $6 million printing plant
KPRN, National Public Radio, debuts
Mesa Mavericks dominate RMAC (Rocky Mountain Athletic Conference); win titles in football, men's basketball, and volleyball
GJHS girls win state basketball title
North 7th Street Residential District added to National Register of Historic Places
Art on the Corner organizes to display sculptures downtown
Doo Zoo, a children's museum, opens

1985

14.2 percent of Grand Junction homes vacant
First National Bank dedicates new facility, 5th and Rood (later Central; now U. S. Bank)
Enstrom's Almond Toffee opens Denver retail store
George Orbanek named the sixth Daily Sentinel publisher
Mesa College's Journal of the Western Slope begins publication
Mesa Mavericks volleyball team in national playoffs
GJHS wins state boy's golf championship
Museum of Western Colorado opens Dinosaur Valley, 4th and Main
Museum of Western Colorado and BLM sign Cooperative Management Agreement for Rabbit Valley Research Natural Area

1986

Sundstrand Aviation Corporation completes Grand Junction plant (first manufacturer to move to City following oil shale bust)
Crossroads Nautilus opens on Horizon Drive
Random drug testing of Mesa College athletes begins
GJHS girls win state cross country championship
BLM and Museum of Western Colorado lay out Trail Through Time at Rabbit Valley

1987

Grand Junction/Mesa County Riverfront Commission established
Genevieve Chase is City's first woman fire fighter
VA Hospital inaugurates National Disabled Veterans Winter Sports Clinic; hosted by Powderhorn Ski Area
Marmot Computer Library System established at Mesa College
Senior Beacon (now Best Year's Beacon) begins publication
Monte Montgomery, GJHS, is state golf champion
First Ptreranodon Ptrot 5K race and Dinosaur Days Celebration
Museum of Western of Colorado and BLM open interpretive trails at Riggs and Dinosaur hills

1988

Two hostage taking incidents – one at Wayne Aspinall Federal Building; the other at Mesa County Court House
VA Hospital and Medical Center adds 48,000 sq. ft. addition
California real estate developer completes long unfinished Horizon Towers
Marillac Clinic opens to provide health care to low income residents
Mesa College renamed Mesa State College
GJHS wins state football and cross country championships
Last Squad drinks last toast and disbands (WWI veterans)
Riverfront Commission purchases Watson Island

1989

Federal Deposit Insurance Corporation places three savings and loans – Valley Federal, Mesa Federal, and Modernunder conservatorship (National Savings and Loan crisis)
Drug bust at Loma Port of Entry seizes 1,042 pounds of cocaine en route to New York (worth $186 million)
Quality International (Choice Hotels) opens national reservation center
Colorado Christian University opens local campus
John U. Tomlinson Library dedicated at Mesa State College
Mesa State awarded share of $75,000 NASA grant for space research
Fruita Monument wins state baseball and girls state basketball titles
Last I-70 highway project completed in Mesa County
New Fifth Street Bridge dedicated
State appropriates money for new state park at Corn Lake (32 Road)
1990
The 1990s
During the 1990s, Grand Junction continued a steady recovery after the oil shale shock. A variety of new industries, tourism and retirees all contributed to an eventual comeback. The population through the 1980s had crept up to 29,034, which was only a 3.2 percent growth.
The Grand Junction Police Department issues annual reports on its multiple activities. The small force of a hundred years ago has grown to over 200 officers and support staff. Insignias shown here signify different ranks. The baton and badges are from Lt. Bob Knight.
Agriculture
The arid Grand Valley depends on irrigation. In the late 1800s the newly watered desert developed high water table and alkali problems. Drainage ditches were the solution. A century later, alkaline salts which leached from the soil and entered the Colorado River were another problem to be addressed. Lining ditches with concrete to control seepage began in earnest in the 1990s.
(Carol McManus Photo)
Business
A local business with customers near and far is Reynolds Polymer Technology, Inc., which moved to Grand Junction in 1993. Reynold's huge sheets of clear, strong polymer are supplied to major aquariums worldwide, including Denver, Chicago, and London. Reynolds is an example of the many businesses which are part of Grand Junction's rebounding economy.
(Scott Dressel-Martin, Reynolds Polymer)
Community
St. Mary's Hospital and Medical Center was founded in 1896. It has grown to be a major Colorado hospital which serves a wide area of Western Colorado and Eastern Utah. Air transport ambulances are on call. There is comprehensive medical care, all the way to complex surgeries. Other modern facilities here are the Veterans' Administration and the Community hospitals.
(St. Mary's Hospital and Medical Center Photo)
Culture
The ethnic heritage of citizens began to be more widely appreciated. The downtown shopping park is the setting for the Latino Cinco de Mayo celebration, and the German Oktoberfest. Music, arts, crafts, dancing and ethnic foods are there in abundance for the crowds. Italians, Blacks, Basques, Scandinavians, and the many Celtic groups also have organizations and festivals.
(Christopher Tomlinson Photo; all rights reserved)
Education
The Tilman Bishop Unified Technical Education Campus (UTEC), dedicated in 1992, was enlarged in 1996. The school, affiliated with Mesa State College and the Mesa County School District, offers vocational education in many fields. Computers, auto mechanics, hotel and restaurant management are some of the majors. Culinary students even operate a quality restaurant, open to the public at noon.
(John Hedrick Photo)
People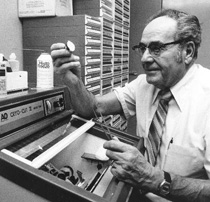 Dr. Geno Saccomanno arrived in 1947 to start the pathology departments at St. Mary's Hospital, and at the V.A. Medical Center. The Saccomanno techniques and the equipment he developed, which detected links between uranium radiation and lung cancer, were innovative and profound. They brought Dr. Saccomanno international acclaim and honors. In the 1990s especially, he and his family were generous as philanthropists.
(The Daily Sentinel)
Recreation
Golfing was at the Lincoln Park and Bookcliff Country Club courses. Growing population and wider enthusiasm called for more ranges. On the Redlands the Elks Club developed Tiara Rado, shown here, which the city bought in 1995. Fine new courses since then include Adobe Creek near Fruita, Chipeta on Orchard Mesa, and now the nationally acclaimed Redlands Mesa course.
(Vicky Hardy Photo)
Transportation
The Denver & Rio Grande Western Railroad was a mainstay for our passenger and freight traffic, from 1882. Its long corporate life as a regional carrier was altered, as railroads nationwide were incorporated into conglomerates. The D.& R.G., and the Southern Pacific, were merged into the Union Pacific. Burlington Northern Santa Fe also has service through here.
(David Sundal Photo)
Details by Year:
1990

Riverfront Commission receives funds to complete Connected (Connecticut) Lake Park
Baseball stadium at Lincoln Park named in Sam Suplizio's honor
Grand Junction Visitors and Convention Bureau founded (financed by lodging tax)
Mesa National Bank acquires Mesa Federal and Valley Federal savings and loan associations from Resolution Trust Corporation; Centennial Bank acquires Modern Savings and Loan
Mesa State adds environmental restoration degree
New Lincoln Orchard Mesa Elementary school constructed
Central High School wins state basketball title
Grand Junction High School girls win state cross country championship
Grand Junction Commission on Arts and Culture established

1991

Operation Desert Storm in the Middle East; local residents serve
President George Bush speaks at Mesa County Courthouse
Local pipe bombings result in fatalities
Fuoco Motors builds new show room and service center, 741 N. 1st
Mesa State opens renovated W.W. Campbell Student Center
Mesa State teacher certification program approved for education degree
Habitat for Humanity of Mesa County completes first home
Blue Heron Section, Colorado River Trail, opens
Sam Suplizio inducted into Colorado Sports Hall of Fame

1992

Colorado voters pass Tabor Amendment to limit governmental spending and taxes
$490 million Glenwood Canyon Highway Project completed (Robert Moston, Regional Transportation Director, Colorado Department of Highways, project director)
Tilman Bishop Unified Technical Education Campus (UTEC) opens; named for the long-time state legislator, coach and Mesa State faculty member
New Mesa County Jail and Sheriff's Department open on Rice Street
First Country Jam music festival
Grand Junction holds major cowboy poetry gathering
LDS Family History Center (543 Melody Lane) hosts first community-wide Family History Faire for genealogical researchers

1993

U. S. Magistrate Jim Robb awarded Outstanding Public Service Award by Colorado Bar Association for his efforts to improve the quality of life in Mesa County
Mesa State Tennis Center re-named for Lena and Carter Elliott
Ridges residents vote to be annexed by Grand Junction
Reynolds Polymer Technology, Inc., relocates from California
Alpine Bank leases offices in Valley Federal Plaza
Grand Valley Hospice established by community health care leaders; merges existing programs
Fruita Monument High School wins state baseball title
Railroad Depot and former St. Regis Hotel added to National Register of Historic Places
Adobe Creek Golf Course opens (Fruita)

1994

14 fire fighters lose lives fighting Storm King Fire near Glenwood Springs
City creates Historic Preservation Board
Woolworth's closes (5th and Main)
Handy Chapel, focal point of black community, added to National Register of Historic Places
Student enrollment at Mesa State reaches 4,600
GJHS wrestlers win state championship
Depot Preservation and Restoration Company buys railroad station from Denver and Rio Grande Railroad; Save the Depot committee formed

1995

Chamber reports Mesa State contributes $138,000,000 annually to local economy
Mesa College receives $185,166 grant from CCHE (Colorado Council for Higher Education) for distance learning and applied multimedia initiative
First Celtic Highlands Fair and Games held at Veterans Intermountain Memorial Park
Performing Arts Conservatory organizes
City buys Tiara Rado Golf Course on Redlands

1996

KKCO Television, Channel 11, goes on air
KRMJ-TV Channel 18 (public television), airs
Central H.S. wrestlers win state championship
GJHS girls win state tennis championship
Fruita Monument wins 5A state cheerleading title
Museum of Western Colorado team completes survey of more than 900 local historic buildings
Voters pass District 51 bond issue to build new schools

1997

Nationwide problem is here; 26.3% of local teens admit weekly drug and alcohol abuse
Local unions include: Colorado Association of Public Employees, Communications Workers of America, International Union of Operating Engineers, International Brotherhood of Electrical Workers, Plumbers and Pipefitters, Union Food and Commercial Workers
Habitat for Humanity of Mesa County completes their first house completely built by women
Mesa Mavericks win RMAC soccer title and advance to national "Elite 8
City dedicates Canyon View Park
Chipeta Golf Course opens (Orchard Mesa)

1998

City and County sign Persigo Water Management Agreement
Grand Valley Joint Drug Task Force coordinates efforts of City police, Sheriff's Department, and Internal Revenue (Drug Enforcement Agency and Colorado State Patrol added in 1999)
New science center dedicated at Mesa College
Mesa State Student Body President and football quarterback Josh Perry named National Burger King Athlete of the Year
McKenzie Dyslin, Fruita Monument, is state golf champion
City constructs first roundabout on Horizon Drive
The Cabaret Theater and Supper Club, opens at 7th and Main, site of first Gay Johnson's Service Station

1999

World-wide preparations for Y2K (Millennium); some stockpile emergency food supplies, water, and portable generators
Four fatalities in Eastgate City Market shooting
Hawthorne Suites opens downtown (225 Main)
KAFM, community radio, debuts
Lazeta, mas musica caliente, region's first all-Spanish radio station, airs (KEXO)
Western Colorado Math and Science Center established in New Emerson School at Columbus Building (Orchard Mesa)
Mesa State awards first MBA graduate degree; basketball team advances to national playoffs
Western Colorado Botanical Society opens Butterfly House (641 Struthers Avenue)
Community saves Urruty handball court from demolition
2000
The 2000s
The 2,000 Millennium saw an array of fine new public buildings in Grand Junction, with more being planned. The rapidly growing city needed these amenities. The number of inhabitants was 41,986 in 2000. This was a 44.6% increase over 1990. Grand Junction, its suburbs and nearby communities added up to a population of over 100,000. The Census Bureau classifies this as a Metropolitan Area.
The Enstrom's Almond Toffee has been operated by three generations of the family. Their almond toffee is the biggest seller, with customers in every state and around the world. Shown are some promotional items, with their logo.
Agriculture
Gardeners benefit from the Master Gardener program of the Colorado State University Cooperative Extension on Orchard Mesa. This center, and two others in the valley, are of great value to area agriculture. Master Gardeners learn improved ways to cultivate their yards and trees, fruit and vegetables for maximum yield and quality. They also mentor new apprentices.
(Colorado State University Extension Service)
Business
The national economy surged ahead in the 1990s, and Colorado was among the leading states in growth. A survey in 2,000 saw that of the twenty American cities with the strongest economies, Colorado had six. Grand Junction was #12 nationwide of these stellar performers. The city developed a wide economic base, and the oil shale collapse of 1982 was far behind.
(The Daily Sentinel)
Community
Mesa County courts built a new Justice Center which was inaugurated in 2001. It is at West Main and Spruce Streets, and is connected to the City/County Jail and Sheriff's Department by a secure tunnel. Transportation of detainees to court hearings by armed vans had been complicated. Detention and courts now are conveniently close.
(John Hedrick Phot
Culture
The Museum of Western Colorado, founded in 1965, opened a new History Museum and main office in May, 2000. The building is the former headquarters of the C.D. Smith Company. A solidly built brick structure dating from 1936, it was remodeled with exhibit galleries and the Loyd Files Research Library. The Sterling T. Smith Tower offers vistas over the city and valley. The Museum also includes Cross Orchards Historic Farm, Dinosaur Journey (Fruita) and the Whitman Education Center.
Education
Mesa State College now has more than 5,000 students. A wide range of majors are available, and several master degree programs are offered. Shown is a student at a computer terminal in Tomlinson Library. The cultural life of the city is enhanced by art shows and performing arts performances. A wide variety of sports are another contribution to community life.
(John Hedrick Photo)
People
Herbert Bacon and the Bacon Family Foundation are benefactors of many worthy community causes. Banker E. L. Bacon and his family moved to Grand Junction in 1948. Sons Herbert and the late LeRoy were chairmen of two banks, and major figures in furthering the development of a vibrant city and region.
(David Canaday Photo, all rights reserved)
Recreation
Canyon View Park is a 110 acre recreation park at the corner of 24 and G Roads. Sports fields accommodate basketball, softball, soccer, volley ball, disc golf, skating, and also picnicking and playgrounds. The city parks department maintains 35 parks, and several trails including the river front; 381.5 acres are available for five new city parks.
(Debbie Hartlerode Photo)
Transportation
Public transportation had lapsed in Grand Junction. A new bus system, which also reaches to nearby communities, was inaugurated in February, 2000. The routes are designed to provide access to shopping, medical care, recreation and to intercity transportation. Suburban areas also are serviced in this comprehensive system, with plans for future expansion.
(Debbie Hartlerode Photo)
Details by Year:
2000

New City Hall, Fifth and Rood, dedicated
Bob Beverly, promoter, coach, and Powderhorn executive, inducted into Colorado Ski Hall of Fame
Heirlooms for Hospice established (635 Main)
Mesa County 4-H members contribute $884,167 to the local economy
According to School District #51, 14 languages other than English spoken in Mesa County
Grand Valley Transit starts bus transportation system
Museum of Western Colorado dedicates new History Museum with administrative offices, exhibit galleries, Sterling T. Smith Tower, and Loyd Files Research Library at 5th and Ute; rehabilitates Whitman School, 4th and Ute
Museum of Western Colorado closes Dinosaur Valley; opens Dinosaur Journey in Fruita
Eagle Rim Park (Orchard Mesa) and Spirit of Pioneer Women statue dedicated

2001

Middle-eastern terrorists destroy World Trade Center and attack Pentagon on 9/11; patriotic fervor and security are high; many memorial services held
U.S. declares War on Terrorism
Harry Butler, third generation community member, elected first black city councilman
Name of Edward Innes, deputy sheriff killed in line of duty in 1906, added to Colorado Law Enforcement Memorial
Abby and Jennifer Blagg reported missing
Justice Center opens on West Main
Cornerstones of Law and Liberty Plaza dedicated, Fifth and Rood
New homeless shelter opens on North Avenue
Mesa County Public Library celebrates centennial, announces expansion plans
Gene Taylor's Sportsman's Supply donates land for ice skating arena
Colorado Canyons National Conservation Area dedicated
Redlands Mesa Golf Course opens

2002

Mesa County median income is slightly higher than $26,000 (source: Grand Junction Economic Partnership)
Eileen Jensen-Kercheval receives Experience Works Prime Time Award
Ryan Patterson, Central High School student, wins national Intel Science Talent Search
Wildfires rage across Western States; several near Grand Junction
Mesa County Courthouse restored and rededicated, 6th and Rood
American Civil Liberties Union (ACLU) drops law suit against city and Ten Commandments Monument
New Veterans Cemetery developed on D Road
Partners opens new facility at 11th and Colorado
Grand opening, extensively remodeled, Two Rivers Plaza
Enstrom's Almond Toffee breaks ground on 41,000 sq. foot expansion
Home Loan announces $4.2 million downtown expansion project
Threestory, $ 5.1 million Fine Arts Building dedicated at Mesa State
Construction begins on Hilton Garden Inn (200 Block of Main)
Dual-language escuela (school) approved by School District #51 School Board
Central H.S. wins State Baseball championship
City begins work on railroad underpass at 30 Road and North Ave.
Chronic Wasting Disease affecting deer and elk found in Western Colorado
Torch run passes through Grand Junction on way to Winter Olympics in Salt Lake City
Colorado Governor Bill Owens names Grand Junction native Jane Norton his running mate for Lieutenant Governor